NEWS
Simon Cowell Opens Up at 'The X Factor' Live Premiere: "I Was Kind of Glued to It"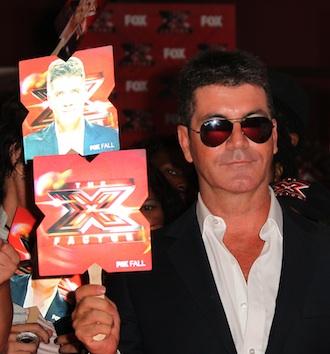 As the highly anticipated The X Factor premiered last night, executive producer and judge Simon Cowell was all smiles and not only that, he was nice to Paula Abdul!
He told OK!, "I mean, I have to give her credit. She has been working like a dog on this for two weeks, hasn't slept. And that's why I wanted her on the show. I have to hand it to her. That's good work."
Simon also mentioned it's kind of funny how Paula and fellow judge Nicole Scherzinger look alike. "Paula and Nicole, yeah, it's like the two witches. Not the three witches, the two witches."
Article continues below advertisement
Considering American Idol and The X Factor both air on the same network, Simon told OK! what the deal was on that. "Well, you know, I left Idol to do this show and there was a reason that I did that. I like this show. I have more fun on it. I used to do Idol and then go to London for X Factor and I always had more fun on it. It's more fun."
So much fun in fact, that he says he loved last night's premiere! "I was kind of glued to it, even though I was sort of on it, I felt like I was watching it, as well. And I liked that everyone got annoyed with me because I was doing so well."
Reporting by Gena Oppenheim