NEWS
Sneak Peek! Top Bloggers Give Their Take On New ABC Family Show Kevin From Work After Special Screening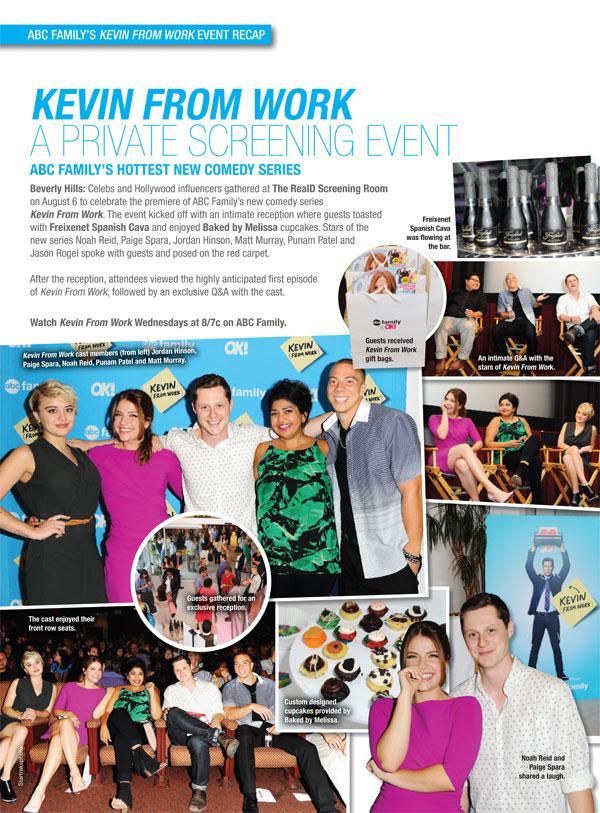 ABC Family's hottest new series premiered this week. But before the big debut, OK! got exclusive access to a private screening of ABC Family's new comedy series Kevin From Work in Beverly Hills, where guests enjoyed Freixenet Spanish Cava and munched on Baked By Melissa cupcakes.
Some of the web's top personalities were on hand, and they told OK! what they think about the new show.
RumorFix blogger Raul Reulas said, "KFW was nothing short of hilarious and original! There is truly nothing else like it on TV, and it definitely has me coming back for more!"
Article continues below advertisement
Meanwhile Celia Behar, blogger of The Lil' Mamas, and a huge TV fan said at the event, "We may be Mamas, but Kevin From Work brings us right back to when we were kid-free and single in all the best and most 'I made 400 last month, where am I going?' kind of ways. Great cast chemistry and loved the use of texts to screen! Still laughing at 'Send me a pic of your D!' text. So good."
And who better to attend a show about finding love than a Finding-Cupid.com writer! David Cruz, love aficionado said, "What I love most about KFW is its amazing cast! They are so funny and so real. I feel like each of us can relate to any of them when it comes to love and relationships."
The votes are in and Kevin From Work is definitely a new comedy to check out!
Watch Kevin From Work Wednesdays at 8/7c on ABC Family.