NEWS
Soleil Moon Frye Is "Super Excited" to See Pal Ashton Kutcher in 'Two & a Half Men'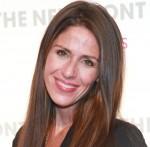 You may know her as Punky Brewster but Soleil Moon Frye is doing big things lately! Her new book, Happy Chaos is hitting stores soon and Soleil says, "I share lots of funny stories about friends and pictures." So we were wondering, who are some of those friends?
Soleil is good friends with none other than newly crowned Two and a Half Men cast member, Ashton Kutcher and his wife Demi Moore! She had nothing but glowing words for the couple yesterday at The Newfront Conference in NYC.
Article continues below advertisement
"They're amazing," Soleil told reporters, "they're both such incredible individuals and they're equally beautiful together."
Soleil and her hubby of 13 years, Jason Goldberg, even hang with the couple and seem to be pretty close! Soleil explained, "They're the most gracious, amazing, inspiring couple I know." Aww!
So did Ashton let his old pal in on any secrets on his newest gig? Nope. Soleil says Ashton is keeping hush on all the deets on his replacement of Charlie Sheen.
"I know nothing!" she explained. "I wish I knew! I need to ask. I'm just super excited to see it."
Soleil's new book, Happy Chaos is set to hit store shelves on Aug. 23 but you can pre-order it here!
By Alannah Scharfenberger with reporting by Linda Santacruz