NEWS
Spotted!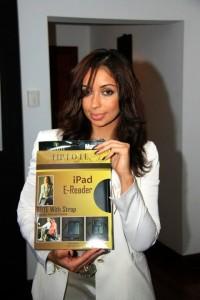 Mya (pictured) and MOD Media hosted a celebrity gifting event at the Cardozo Hotel in Miami Beach for Tip Tote, a luxury leather black bag & Gripper designed and created specifically for Apple's iPad.
Taylor Swift arrives in Neil Lane Jewelry at the 58th Annual BMI Country Music Awards and the 44th Annual CMA Awards.
Martina McBride wearing two of David Yurman's Tapestry Cuffs, the Infinity Drop Earrings, the Oval Starlight Ring, and the Pave Quatrefoil Ring to the 58th Annual BMI Country Music Awards.
Audrina Patridge arrives in 1020 By Nicole at the Young Hollywood Studio.
Sheryl Crow arrives in Neil Lane Jewelry and carrying Kotur's Morley Clutch at the 44th Annual CMA Awards.
Kristen Chenoweth picks up a new sleeping aid Dream Water while shopping for holiday supplies at Walgreens in New York City.
Carey Mulligan and Andrew Garfield attended the Altoids sponsored screening of Never Let Me Go on November 9. With award season around the corner, Altoids got these two stars red carpet ready with a 1-year supply of Altoids Smalls.
Victoria's Secret models Lily Aldridge with boyfriend King's of Leon's Caleb Followill and Rosie Huntington with boyfriend Jason Statham munching on Artichoke Pizza at NYC's Avenue following the Victoria's Secret show on Wednesday, November 10.
Mad Men star John Slattery chatting with honoree New York Yankees first basemen Mark Teixeira at this year's ALS Association Greater New York Chapter's 16th Annual Lou Gehrig Sports Awards Benefit Thursday night in New York.
Winona Ryder arrives in Neil Lane Jewelry at the premiere of Black Swan on November 11.
The London West Hollywood, hosted the People Choice Awards press conference to announce 2011 nominees. Celebrities in attendance were Annalynne McCord, Zachary Levi, Audrina Patridge, Malin Akerman, Queen Latifah, and Jeff Probst.
Brazilian Supermodel Fernanda Motta wearing a Nycked bathing suit while playing football with friends in Malibu, CA.
Article continues below advertisement
Jenna Dewan and Ana Ortiz gushed over the new Sony Internet TV, saying how excited they are to gift them to their husbands for Christmas at the Sony Cierge exclusive holiday preview event on Wednesday, November 10 in West Hollywood.
30 Rocks' Katrina Bowden (pictured) shopping at the new American Eagle Outfitters Soho Flagship store at 599 Broadway and Houston on Thursday, November 11, only two days after opening day.%%{img}%%