NEWS
Stars Who Care — Jaslene Gonzalez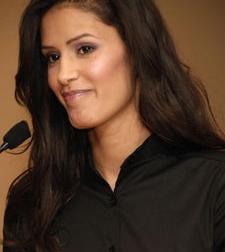 It takes a strong woman to stand up for herself and realize that being in an abusive relationship is not worth it. For America's Next Top Model winner Jaslene Gonzalez, it was definitely one of the harder things she has had to do in her life.
"The abuse is in control," she tells OK! "It was all about trying to figure out how much do I love myself and how much do I want in life." Because of her will, Jaslene got out of her four-year relationship. "He saw I was really trying to change my life," she explains why the abuse started. "He became more protective and jealous."
Article continues below advertisement
Now Jaslene is joining forces with Liz Claiborne and their Love Is Not Abuse campaign to spread the word. "Abusers are usually the weakest man who use our power and strength so they can gain control and power," says this Chicago native. "Recognizing your strength and beauty help you come out of something so horrible."
And how did Jaslene learn about this great organization that aids many in abusive relationships? "I didn't know about it until I did my photo shoot with Seventeen," the spokesperson adds. "They asked me if I wanted to wear a Claiborne shirt that said, 'Love is Not Abuse,' and that's when I became involved."
Abuse doesn't discriminate and thanks to Jaslene and Liz Claiborne, they are showing women and men alike to stand up for themselves and keep their power theirs.
By Alisandra Puliti