NEWS
Stephen Colbert is Semifinalist in Cutest Dog Competition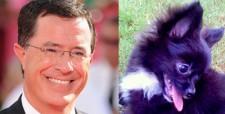 Stephen Colbert is one cute dog! A Pomeranian-Chihuahua mix named Stephen Colbert (see the resemblance?) had the support of Stephen's many fans to help him beat a Cavalier King Charles named Mozart.
The two dogs competed tail to tail in the All American Pet Brand's Cutest Dog Competition and while both are named after celebrities, Stephen Colbert seems to have more fans!
He is now in the semifinals and the winner of the competition could win $1 million! Good luck, Stephen Colbert!
Article continues below advertisement