NEWS
Steve-O Reveals His Wedding Details to OK!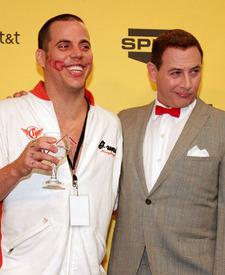 This weekend the Jackass crew will be taking over the MTV airwaves for 24 hours. They follow in the great tradition of the Foo Fighters and Courtney Love. But, with a lot more naked guys and pranks.
OK! spoke to Steve-O about getting the Jackass dudes together and performing their crazy antics all over again. "It's good to have the boys back together again. I'm ready to get hurt. Nothing is sacred anymore! The boys are back!"
Article continues below advertisement
Meanwhile, the conversation turned to his impending marriage to his long time girlfriend, Brittany. He said, "One night I got on my knees and asked her to marry me in front of her grandma." He continued, "I refer her as my wife. I don't believe in contracts for love. I'm not planning on having a wedding, but a marriage party with my gangsta rap friends. She's been thorugh everything and I've decided to commit and get married."
In case you forgot, Steve-O recently announced he began work on his rap album: "Initially like anything else, I figured it would be completely impossible to succeed. Then I figured since I have big superstar producers, why not. Now it looks like I'm going to get really rich."
With all the pranks he's pulled over the years, he doesn't consider himself the craziest of the Jackass bunch. "Hands down Johnny Knoxville is the craziest. Except for my lack of sense of unaccountability, I actually pick my battles. Knoxville is crazy, but then again there's all kinds of crazy."
To see what they have up their sleeves, check out "Jackassworld: 24 Hour Takeover" Beginning Noon ET, Saturday February 23rd - Noon ET, Sunday February 24th and also check out the new site: http://www.jackassworld.com.
By Jocelyn Vena