NEWS
Steven Tyler on 'American Idol' Finalists: "Mom's Apple Pie Hit Right in the Midriff"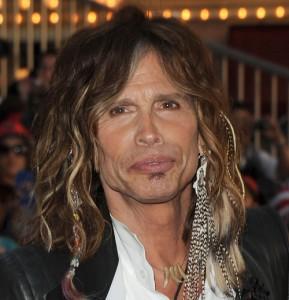 Steven Tyler couldn't be happier about the final two American Idol contestants. Country has taken the hit Fox singing competition by storm, and the Aersomith frontman has nothing but good things to say about Scotty McCreery and Lauren Alaina. 
And he hasn't kept it a secret that he is rooting for Lauren to win it all, and even said last night on the final performance show, that the 16-year-old southern belle "had it hands down."
Article continues below advertisement
So when did his affinity for Lauren start?
"It was the second city and we were sitting there… you have to go through so many kids, and she sang and I stood up and said, 'Thank you, Jesus!' Because when she sings, she doesn't try to hit the notes, they just fall in her lap. The words go to that place," Steven told The Hollywood Reporter. "Everyone else is trying to hit the notes, and we're supposed to be judging them – like you didn't sing that good, you were pitchy — she's never had a problem with pitch, maybe bad songs… I circled her 8 months ago and said "American Idol" I saved it. Her and about six or seven others. I loved her."
Lauren's strained vocal cords won't hurt her chances of winning, according to Steven.
"She was hoarse but they have steroids for that.," he explained."The next day, it's not so good, though. She didn't sing that much tonight. Tomorrow she'll nail it."
Scotty McCreery has brought a real dose of country to the Idol stage, and even though Steven's a rock legend he gives props to the country connection on this season.
"Both of them are very much country which gives it up to life and things —what's going on with their dog, their back porch, real love stuff. What they both picked tonight was just brilliant," he said, before delivering one of his bizarre analogies that he is famous for as a judge. "It was really beautiful. Mom's apple pie, it hit America right in the midriff."