NEWS
SUNDAY: REFLECTING ON STUFF IN THE NEWS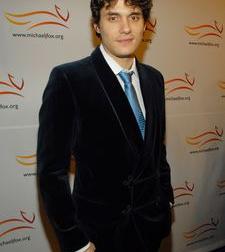 Dec. 10 2007, Published 4:00 a.m. ET
View all comments
This was kind of a slow news week as far as things that I learned or left an impression on me after a Sunday spent studying the papers.. I don't want to give anymore attention to the person responsible for the tragic murders in the mall except to say how sick I think it is that yet another suicidal teen took innocent lives for infamy.
On a lighter note...Today I read:
-When Page Six Magazine asked Fall Out Boy lead singer Pete Wentz about the coolest New Yorker he'd ever met he said, drumroll…John Mayer. Specifically, he said, "I like hanging out with John Mayer. He's the kind of guy that captivates you with the words he uses." I agree that John is somewhat of an eloquent speaker, you can see for yourself reading his blogs at johnmayer.com/blog, but funny that Pete, Ashlee Simpson's boyfriend, should call Ashlee's sister Jessica Simpson's ex-boyfriend John Mayer, a guy Jessica has alluded to breaking her heart, the coolest New Yorker he's ever met.
Article continues below advertisement
-While on the subject of Jessica, another rock star, Benj Madden, who's in the band Good Charlotte with his brother Joel Madden, fiancé of Nicole Richie, is filming the reality show "His and Hers" with his fiancé Sophie Monk, a show said to be in the vein of Jessica Simpson and Nick Lachey's "Newlyweds."
- Jude Law celebrated his birthday at Las Vegas nightclub LAX last night. Am I the only one who finds that to be an odd fit? The father of four will be 35 Dec. 29.
And finally…I read an article today that said it's become a trend for parents to realize afflictions they have themselves when bringing their child to the doctor. A common undiagnosed problem being found in parents who bring their children in with the problem is Attention Deficit Disorder. I personally don't think I have to wait until I have kids to bring to the doctor to know that I have ADD that either went undiagnosed all through childhood or is a result of my job, society and New York. Rather than meds, I've found exercise helps – but running and cardio opposed to the yoga a doctor suggested I start- um, I'm fairly flexible, but don't have the attention span for a yoga class.