NEWS
Taylor Lautner Describes the Perfect Team Jacob Girl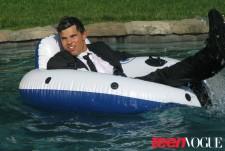 A lot of the ladies love Robert Pattinson in Twilight. Duh. But there are a select group of admirers out there who've found a very cozy place in their heart for the other young man vying for her heart — Jacob Black, played in the films by Taylor Lautner, who describes the ideal Team Jacob girl in a new interview.
"If she likes having a really close friendship with a guy," he tells Teen Vogue. "Being able to tell him anything, and then having that friendship slowly transform into something more."
Article continues below advertisement
But don't think that Taylor is confusing fans' love of his character with love for him. "I think the fans would love anybody who played Jacob," he explains. "I'm just lucky to be the one who got the chance."