NEWS
Taylor Momsen Spreads Her Gloom Across the Pond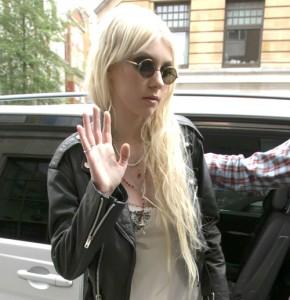 "Greetings, Earthlings. I come to you in boredom from a planet called Couldn't Care Less."
Taylor Momsen looked like her usual ray of sunshine self on Tuesday as she arrived at the BBC Radio One studios in London. C'mon, T-Mom, couldn't you muster up a little bit of excitement for your jaunt across the pond?
Apparently asking the Gossip Girl star to look anything other than too-cool-for-school and bored beyond belief is as pointless as asking why she despises wearing pants (or any legwear that doesn't have some kind of hole or rip in it).
Article continues below advertisement