NEWS
Taylor Swift Promotes "Wonderstruck" on 'GMA': Smells "The Way That Word Feels"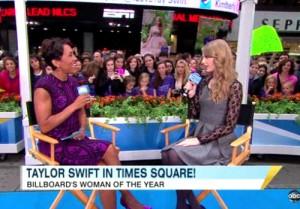 Taylor Swift stopped by Good Morning America today wearing a cute lace dress to promote her new fragrance "Wonderstruck" and greet her adoring fans.
OK! NEWS: TAYLOR SWIFT TO RECEIVE BILLBOARD'S WOMAN OF THE YEAR AWARD!
"It's a line from my song 'Enchanted' and the line says, 'I'm wonderstruck blushing all the way.' I've always loved that line and that phrase, 'wonderstruck.' You don't hear it very often."
Article continues below advertisement
"So, I just felt like if I ever got the chance to make a fragrance — which I've dreamed of doing since I was about 14 years old — Ever since I wrote that song I thought that would be the title. And I'd want to create a great fragrance that smelled the way that word feels."
Taylor said she spent about a year creating her fragrance and put a lot of thought into the charms around the side of the bottle.
OK! NEWS: WATCH TAYLOR SWIFT'S ENCHANTING 'WONDERSTRUCK' FRAGRANCE COMMERCIAL
Despite the weather, Taylor sat outside for her GMA interview and gave back to her fans by answering some of their questions.
One fan asked about the song quotes Taylor always has on her arm for every show. How does she choose them?
"I choose them just based on how I'm feeling that day. It's sort of a mood ring," Taylor explained. "It's random. It's always other artists' lyrics. But it's like if I think a line is clever or a line applies to how I'm feeling that day — it can be anything like that. It's always something that for some reason applies to me that day."
Watch Taylor's interview over at GMA.com!