NEWS
Teen Mom's Amber Portwood Hospitalized During Her Rehab Stay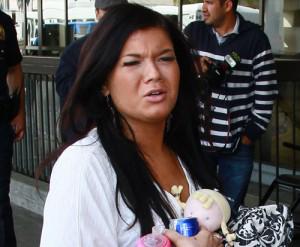 Teen Mom Amber Portwood is having a difficult summer. Following an attempted suicide last month, Amber decided to go to rehab to deal with her depression, and on Saturday the 21-year-old mom had to be taken to the hospital after sustaining a head injury.
Radar Online reports that while Amber was in a California rehab facility, the Teen Mom reality star had to be treated at a local hospital.
Article continues below advertisement
"Amber had a minor head injury from a fall yesterday and was taken to the ER," Shawn Portwood, Amber's brother, wrote on her fan Facebook page, via Radar Online.
He added: "But, she is doing fine now and back to overcoming the issues she is facing."
Amber is also dealing with fears that she will never see her daughter Leah again, after she is released from rehab.
Her stint in rehab may be the Teen Mom's last chance to regain custody of her two-year-old daughter.
Amber and the rest of the original Teen Mom cast will return to MTV this summer.
Watch the preview of Teen Mom season three !