NEWS
Meet the 25 Bachelors Who Will Fight For Emily Maynard's Heart on 'The Bachelorette'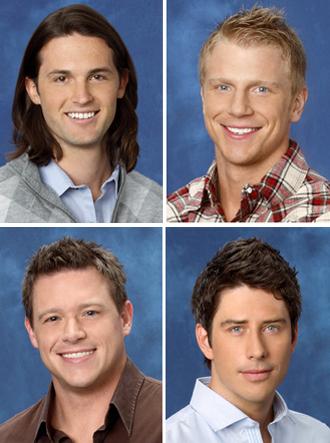 Article continues below advertisement
As you may know, Emily's former fiancé, race car driver Ricky Hendrick, tragically died in a plane crash in 2004 when Emily was pregnant with their now seven-year-old daughter, Ricki. Then, she appeared on The Bachelor and fell in love with Brad Womack. Although the couple was engaged for a few months, Emily ended things with Brad and is now searching for the love of her life who can not only win over her heart, but her daughter's as well.
OK! VIDEO: BACHELORETTE PREVIEW: GET A SNEAK PEEK AT EMILY MAYNARD'S UPCOMING SEASON!
Here are the names, ages, occupations and hometowns of the men who will appear on Emily's season and for more information, go to abc.go.com!
Aaron, 36, Biology Teacher, Nova Scotia, Canada
Alejandro, 25, Mushroom Farmer, Medellin, Colombia
Alessandro, 30, Grain Merchant, Uberlandia, Brazil
Arie, 30, Race Car Driver, Den Bosch, Netherlands
Article continues below advertisement
Brent, 41, Technology Salesman, Midland, Tex.
Charlie, 32, Recruiter, Worchester, Mass.
Chris, 25, Corporate Sales Director, Bartlett, Ill.
David, 33, Singer/Songwriter, Charlottesville, Va.
Doug, 33, Charity Director/ Real Estate Agent, Seattle, Wash.
OK! NEWS: INTRODUCING THE NEW BACHELORETTE — EMILY MAYNARD!
Jackson, 29, Fitness Model, Chicago, Ill.
Jean-Paul, 35, Marine Biologist , Moraga, Calif.
Jef, 27, Entrepreneur, St. George, Utah
Joe, 27, Field Energy Advisor, Orlando, Fla.
John, 30, Data Destruction Specialist, St. Louis, Miss.
Kalon, 27, Luxury Brand Consultant, Houston, Tex.
Kyle, 29, Financial Advisor, Long Beach, Calif.
Lerone, 29, Real Estate Consultant, Laguna Beach, Calif.
Michael, 26, Rehab Consultant, Tahoka, Tex.
Nate, 25, Accountant, Scottsdale, Ariz.
Randy, 30, Marketing Manager, Oak Creek, Wis.
Ryan, 31, Pro Sports Trainer, Augusta, Ga.
Sean, 28, Insurance Agent, Dallas, Tex.
Stevie, 26, Party MC, Monroe Township, N.J.
Tony, 31, Lumber Trader, Beaverton, Ore.
Travis, 30, Advertising Sales Rep, Madison, Miss.
What do you think of the guys? Share your thoughts with us!