NEWS
Thursday Night TV Roundup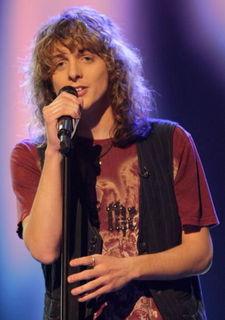 TV Fanatic and OK!'s Joyce Eng break down your fave shows of the night: American Idol and Lipstick Jungle!
American Idol: "Garrett, why did you have to be one of the first four eliminated this season? I was your soul supporter here in the office, and now I'm never going to hear the end of it! I guess America's teens aren't ready for Leif Garrett 2.0! As for the other contestants who got the boot, no big surprises. Amy Davis and Joanne Borgella were both victims of their nerves. As for Colton Berry, I think his fate was sealed while he was sitting in the Top 24 decision room last week. A lot of people expected to see Kyle Ensley up on that stage, and never forgave the boy who beat him. But goodness Simon, did you have to tell Colton to give up his career as a singer? He's already gotten the boot, you got to kill his spirit too? And I'm pretty sure I don't need the elimination show to be an hour. All those recaps and VIP moments and that hokey group number, ugh! I don't think I'll be able to listen to "Spanish Harlem" the same way again after hearing 12 girls sing it in unison." – TV Fanatic
Article continues below advertisement
Lipstick Jungle: For those of you who have HDTV, I urge you to watch this show on your lower resolution channel. Good God. I'll spare the ghastly details, but Brooke Shields is NOT made for high-definition these days. Woman is not looking good. After a good makeup week last week, she went back to mannish and battered. Wendy's personal life continues to unravel as her daughter, Bratty Maddy, won't let up about her lack of a cell phone and the tell-all is on its way to shelves. Uneasy about the whispers around her shoddy parenting skills, Wendy tries to do damage control by bringing Maddy as her date to the Women in Media luncheon. Maddy figures it out and storms out, but there's lots of love between mom and daughter in the end when Maddy realizes how lucky she is not to have a stage momager like teen star Abby Garcia (whose mom wanted her to do a graphic nude scene in Wendy's next flick). After getting blasted by Janice Lasher at the shindig, Wendy defaces her Liberace-esque coat with a lipstick-printed (get it?) "Bitch" on the back. The news gets worse for Janice – Nico scooped up her assistant to write a dishy reveal on her. Burn. Okay, can someone explain the appeal of these tell-alls to me? Especially Wendy's, I mean, she's a friggin' movie executive. And as we know in real life, juicy tomes about them are always hot sellers! (Cue eye-rolling). Nico's life is heating up too, but in all the wrong ways. After nearly getting caught getting it on during the Prince William shoot by nemesis Mike, she freaks and cuts off Kirby, from his job too! She asks Patty to hire a new assistant, which Patty takes to mean Kirby's unprofessional, then refuses to give him a reference. On his way out after Nico writes him a hefty check to "hold him over" until his next job –which he rips up – Kirby and Mike have a chit-chat in the elevator and by the final scene, Kirby has sued Nico for sexual harassment. Who didn't see that coming? God, this show is so predictable. Just like Victory's crying. She's the Ricky Lizalde of Lipstick Jungle. I think her tears will fill a lake by the time the show's run is over. Vic wants Joe to meet her BFFs, and he agrees only if she will meet his – in Paris, who are nonexistent, unless you count Coco Chanel's used body dummy. He hits it off with Nico and Wendy, but has no desire to see either of them again, which pisses Vic off. When she sends back Coco's dummy he ships to her, Joe explains that he does small talk all day and wants to spend all his off-time with her and no one else. And all is good again. Yawn." – Joyce
Do you agree? Tell us what you think!