NEWS
Thursday Night TV Roundup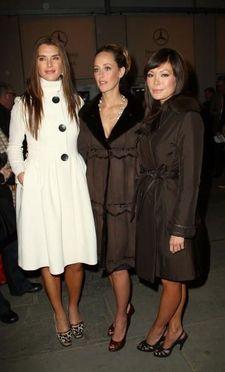 OK!'s Joyce Eng breaks down your fave show of the night: Lipstick Jungle!
Lipstick Jungle: "It's the season finale. It feels like it's taken two years to get here, and yet it's only the seventh episode. Since the previews pretty much told us Charles was going to have a heart attack, thus rendering Nico full of guilt, TPTB cramped as many sex scenes as they could in the beginning, including a steamy opener in the smallest shower in the world that basically looked like a porta-potty in the middle of the bathroom. Nico gets the bad news in the middle of another romp with Kirby after disregarding multiple calls. She gets all shaky and teary, wrought with guilt for being with her boytoy while Charles was near-death. Wendy shows up at the hospital and they're BFFs again. The next day Megan, the grad student whom she met at the diner a few weeks back, shows up. Even more teary-eyed than Nico, she's got Charles' work in tow, and a "get well soon" note -- sort of. It reads "Thanks for everything. Miss you, M." Nico deduces that Charles is definitely banging the chick, just like he did Nico when she was his pupil. Hey, old habits die hard, right? She somehow uses this speculation, which totally has to be true, as justification for her own adultery. It's always a sigh of relief to know your spouse is cheating on you, you know. She ultimately determines she must save her marriage (threatened by the Megster?) and breaks it off with Kirby. So a cheatin' wife wants to stay with her cheatin' hubby... makes sense. With all the good writers apparently exhausted on Nico's brilliant storyline, Wendy and Victory got the big steaming pile of turd that was left. A big-time movie's supposed to kick off production soon, but there's no final script, a problem everyone is worried about except for Wendy. She passed off the rewrite to the elderly and eccentric Lorraine Littman, who is probably one telephone away from being Amish, as she still uses a typewriter and eschews the Internet. After entertaining LL's fear of being replaced by "younger writers" (is this supposed to be a metaphor for actresses?), Wendy pulls an all-nighter encouraging her to finish the script. She does. And yes, this was her entire storyline. Victory's storyline at least had more, uh, spice. Hockey star Chris Parks (Bobby Canavale) and his wife Kelly hire Vic, who's still pissed at Joe, to dress them and do so much more. Not only is Victory a whiny twit, but a dense one too. Despite all the fawning, ogling, giggling and, oh, giving of house key to her, Victory doesn't realize they're out for a threesome until each of them makes a move on her. Though shocked, the tri-curious Vic still makes the trek to their pad and starts getting it on with them until Chris "ruins it" by "hogging the girl again." Again?! Yes! Again! That's not going to fly with Victory! She bolts. Let's get this straight -- she was only into the menage a trois if she was their first?! Victory has high standards, guys! Bawling to Joe over the phone, she apologizes and asks if she could come over, but realizes J-dog's already with another gal. Of course he is. Gazillionaires move fast! Plus, if you couldn't tell that he had another chick in bed with him by the tight shots of him on the phone, then you're just as dense as Victory is. Roy comes over and makes smiley pancakes for her and all is good again. What an exciting finale, huh?!" -- Joyce
Article continues below advertisement
What did you think of Lipstick's finale? Let us know!