NEWS
Tiger Woods' Alleged Mistresses: Where Are They Now?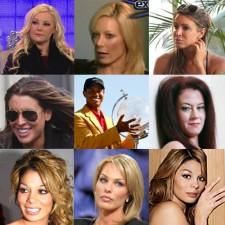 Feb. 19 2010, Published 5:00 a.m. ET
View all comments
With Tiger Woods coming into the clearing — OK! takes a look at the women who fueled his current crisis. Here is a round-up of the pro-golfer's most prominent alleged mistresses and a look at what they might be doing now. Lets hope it's not attending a press conference!
Praying for Privacy: Rachel Uchitel
Rachel, 34, is a club promoter who was the first of Tiger's mistresses in the mix and has denied the affair reports, hiring famed attorney Gloria Allred to have her back in court. On occasion, Tiger's yacht was stationed at the same remote destinations as Rachel, and she has called it a coincidence that she visited Australia the same month as Tiger a "coincidence."
Article continues below advertisement
So what is Rachel up to nowadays? She loves spending time with her dogs and is trying to escape the "home-wrecker" image that the Tiger scandal has plagued her with. Most recently, Rachel canceled her 35th birthday bash back in January at the Palm Beach Club in Palm Beach, Fla.
"The media attention was unexpected and unwelcome and for that reason the planned party at a club will not take place," Gloria Allred told E! News.
OK! EXCLUSIVE: WILL ELIN BE BY TIGER'S SIDE AT TODAY'S PRESS CONFERENCE?
Pin-Up Pictorial Princess: Jaimee Grubbs
Jaimee, 24, is a former cocktail waitress and reality star. She appeared on VH1's Tool Academy and claims to have hooked up with Tiger at least 20 times over 31 months. She also says she has voice messages and text messages as proof.
Where has the Tiger scandal catapulted Jaimee to? A career as a sexed-up pictorial model. She appears half naked in the February issue of Maxim and in Ralph magazine's latest issue.
Article continues below advertisement
Ralph mag coined Jaimee as "Tiger's sexiest mistress" and paid her more money to divulge on her sexual escapades with the pro-golfer.
"It's hard to be sexy and still maintain class but that's what I tried to do," Jaimee said.
Jaimee says if a movie about the scandal is every made she she hopes to play herself.
"I'd want someone like Brad Pitt to play Tiger."
In the Maxim spread, Jaimee shares the best Tiger joke she has heard.
"Well, I have a pet bunny I carry around with me, and my friends are like, 'She moved on from a tiger to a rabbit.' "
One things for sure, Jaimee is hoping to hop her way to the top.
Chatty Cathy: Cori Rist
Cori, a 31-year-old mom, claims she had a two and a half year fling starting in 2006 with Tiger and spoke about it on The Today Show.  She said she would have secret trysts with the golfer in hotel rooms that adjoined.
Article continues below advertisement
Cori loves public appearances and is taking her Tiger tales global. Last month, she traveled Milan, Italy for an interview on the Italian TV show Chiambretti Night.
OK! NEWS: TIGER WOODS WILL RETURN TO REHAB AFTER SPEECH
Juggling Dreams: Jamie Jungers
Jamie Jungers, 26, is a waitress and wannabe model. According to reports, Jamie met Tiger at a Las Vegas party and he asked to meet her in private. Over the next year and half, reports say Jamie and Tiger would rendezvous at his California home to hook up.
How about post-Tiger? Jamie has not been as fortunate as the other Jamie with her modeling career and is most probably still trying to receive an acting or modeling job from her 10 seconds of Tiger-related fame.
Serving Up Flapjacks: Mindy Lawton
Mindy, 36, is an Orlando waitress and manager at Perkins restaurant. She has spilled the most details about her alleged relationship with Tiger saying he was "well-endowed." She claims their affair occurred during Tiger's wife Elin Nordegren's first pregnancy and lasted for a year.
Article continues below advertisement
Where is Mindy now? Serving up flapjacks at Perkins.
Reported Pregnancies: Joslyn James
According to reports, the 39-year-old porn star thought she was Tiger's "full time mistress" and she provided "years of service to Woods' virulent sexual appetite." However, these reports were never actually confirmed by Tiger.
What is she up to now? Joslyn opened up on Inside Edition this week, claiming her affair with Tiger resulted in two pregnancies.
"Elin was pregnant with Charlie at that time. I just didn't want to ruin anything," she said.
Now, Joslyn is demanding an apology at Tiger's press conference today.
OK! HOT GALLERY: TIGER WOODS PUMPS UP FOR PRESS CONFERENCE
Porn Parody Producer: Holly Sampson
Holly, 36, is a porn star who has since come out to deny sleeping with Tiger when he was married; however, Holly has admitted she was hired by Tiger for $3,000 to perform an explicit X-rated show for his 24th birthday party in an L.A. hotel suite in 1999 — around five years before he married Elin Nordegren.
Article continues below advertisement
"It was a girl-on-girl-on-girl show. Sex show. You know, dances," explained Holly. "I gave Tiger a lap dance that he absolutely loved," adds the porn star.
However, if Tiger had been married at the time, Holly wouldn't have touched him.
"I'm not his mistress," she says. "I've never been his mistress… I just don't believe in sleeping with married men."
What is she doing now? Reportedly in the process of producing a porn parody based on her and Tiger's scandalous night together and the golfer's indiscretions.
"There are things that are in the works," the porn starlet told Extra in December. "Honestly, I think parodies are hilarious. I love that stuff and I know a lot of people that love that stuff."
Vivid Entertainment's Steve Hirsch also weighed in, adding, "We have shown Holly a script we're working on that would sort of detail her time with Tiger. It would be more like a docudrama that documented the events that happened exactly as they happened."