NEWS
Tight and Toned: Britney's New Body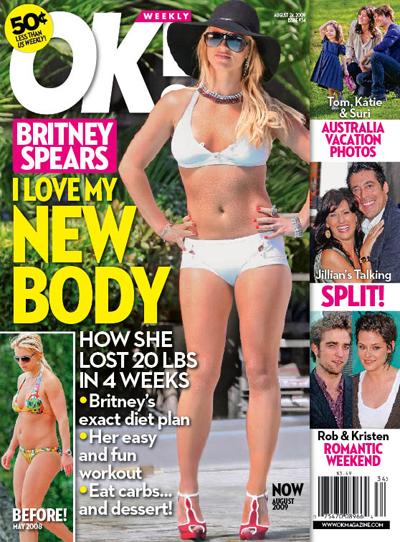 Britney Spears: In just four short weeks, the pop star has shed 20 pounds and is rocking a fabulous new bikini body that anybody would envy. Discover how she did it and how you can do the same. Also, get a sampling of Britney's new daily diet.
Twilight: As Robert Pattinson and Kristen Stewart reunite in Los Angeles for the Teen Choice Awards, their romance is reignited with secret hotel trysts and private dinners. Find out where they were spotted and what this means as they begin shooting Eclipse in Vancouver.
Paula Abdul: Was it all about the money? Or was there truly strife between Paula and the newest addition Kara DioGuardi? After being there from the very beginning, find out the real reason behind Paula leaving her Idol family behind, and where will she go next?
Brad and Angelina: After weeks of stress in their relationship and time apart, it seems that the way to a man's heart is truly through his stomach, as Angie turns to being a happy homemaker to bring her family back together. Plus, get the fabulous recipe for the cake Angie created for Maddox's birthday.
Tom and Katie: Distance does truly make the heart grow fonder, as evidenced by Tom Cruise's reunion with wife Katie Holmes and daughter Suri in a park in Australia, where Katie has been filming Don't Be Afraid of the Dark.
Plus: Heidi Klum talks about pregnancy, Seal and the new season of Project Runway. After three kids, Brooke Burke shares her tips to staying in shape after babies. Get the coolest duds for your little ones as they head back to school. As the stars of Fame prepare for their film's big debut, check out their cool retro fashions. Lasting impressions with LL Cool J.
Article continues below advertisement