NEWS
TV RECAP: Waking Up with Carson Kressley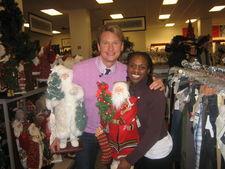 After sitting around in my turkey haze all weekend, I needed something to jolt me back into pace. Spending a couple of minutes with Carson Kressley Monday morning did the trick. The Queer Eye for the Straight Guy alum drove an electric sled down the streets of New York City to spread a little holiday cheer for discount retailer T.J. Maxx. "When have you seen a gay guy in a purple sweater driving up Sixth Avenue with Ms. Claus and 100 elves in tow?" Carson declared.
Article continues below advertisement
The happy holiday display is to support the store's "Inner elf" campaign, encouraging those who do it all at the holidays to come in for one-stop-shopping. "This is a great place where that elf can find everything: decorations, great food treats and holiday clothes," said Carson. "I've always been a big fan, picking up a little of this and that."
Carson will pull double duty on TV over the next few weeks. He's appearing as a judge on the new CW series Crowned: The Mother of All Pageants, which premieres on the network Dec. 12 at 9 p.m. "It's the new wave in beauty pageants, mothers and daughter working together. It's more about their relationship that makes them special," Carson said. He also teased their will be "a lot of cattiness and bitch slapping, but that's just me and the other two judges," he joked.
Carson's also hosting his own new makeover series, How to Look Good Naked, on Lifetime in January. "The mantra of the show is that women have so many body issues, feeling you're too tall, too fat, too skinny or have ugly elbows," said Carson. "The point is to just get over it, focus on the positives and love what you got to work with and make the most of it." Carson doesn't just help gals look fabulous, but teaches them to celebrate their bodies with a nude photo shoot. Laughed Carson, "I've never gotten so many women naked in my life!"
How to Look Good Naked premieres Jan. 4 at 9 p.m. on Lifetime.