NEWS
TV RECAP: WEEKLY ADVENTURES IN A TV WORLD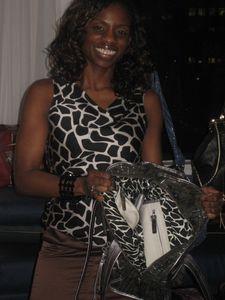 It's Fashion Week! Practically all of the TV world was in New York City to do time in the big white tents at Bryant Park (a writers' strike will do that for yah!). I got a chance to get out and mingle with the people who inhabit my TV set 24/7.
On Sunday, I ran into Law & Order: SVU's Mariska Hargitay at the Lela Rose show. She looked amazing in her Lela Rose ensemble – obviously being married to Cashmere Mafia's Peter Hermann agrees with her. "I'm always enjoying when my husband is working and happy and prospering," she told me. "I think he's doing fantastic on the show and it's really fun to watch." As for their nearly 2-year-old son August, he's "perfect. Every day his vocabulary changes, so it's really fun. Right now, he talks mainly about apple juice."
Article continues below advertisement
Monday night I attended the Benjamin Cho show at the Metropolitan Pavilion. Benjamin's designs are avant-garde, lots of plastic and sheen and knits woven into a horse head for the big finale. So I thought Big Love 's Chloe Sevigny, who's never afraid to take a fashion risk, would love to chat with me about the designs. I was wrong. She brushed me off – twice – with a polite, not doing any interviews tonight gesture. Oh well. At least I got free bottled water!
I spent Wednesday evening visiting the Ziordia handbag lounge. They're faves of High School Musical's Vanessa Hudgens and the Olsen twins. The handbag's designer, Arlene Hildreth, has thought of everything a girl could want in a stylish and functional carry-all. "It has a little pull out pocket where you can hold onto your keys and money if you're in a club and you need to check your bag," she explained. They also have fun and funky printed linings, and they zipper for security, a must when you're living in the big city. Gals of Gossip Girl and Lipstick Jungle better get on that, stat!
Article continues below advertisement
I finished out the week at Carmen Electra's Valentine's Day singles soiree at the hip underground club D'or at Amalia restaurant in midtown. While I sipped the Pama cocktail special, Carmen shared her thoughts on finding true love. "I think the key is not to look too hard and not to expect so much. You just have to relax and not try to force things to happen or not to happens," she shared. Carmen also recalled her favorite Valentine's, with first grade boyfriend Greg Watson. "We would listen to ACDC and roller skate in the basement and hold hands and that was a big deal. I still think about him to this day," she laughed. Greg, if you're reading this, you might want to give Carmen a call!
This morning I'll be sitting front and center at the Project Runway finalist fashion show, the hottest ticket at the tents. You know I'll be bringing you all the scoop, like whether all five remaining designers sent their lines down the runway. Unreal!
If you've been missing your Alec Baldwin fix on 30 Rock, check out National Geographic Channel's special, Six Degrees Could Change the World, airing Sunday, Feb. 10 at 8 p.m. on the network. Alec narrates. And we know he knows a thing or two about getting heated!