NEWS
TV RECAP: Weekly Adventures in a TV World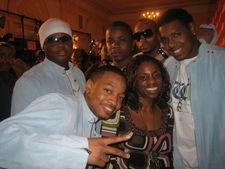 Who can resist a hot group of reality TV music stars? I sure can't! So when I had my chance to cozy up with Day 26, stars of Making the Band 4, I didn't hesitate.
The guys revealed they'll be back for another season, where they'll take their act on the road. "You're going to see what happens behind the scenes on the Bad Boy Tour," Robert told me.
Thank goodness for that, because it hasn't been easy for these five red-blooded males to shack up with the gals of Danity Kane. "Living in a house with five beautiful ladies is kind of crazy. They are walking around in their bathing suits, teasing us, and that's hard," Qwanell says. He should know. After all, he did lock lips with Dawn. "I'd do it again and again and again," he laughs.
Article continues below advertisement
They even filled me in on what it's like to have Sean "P. Diddy" Combs as a boss. "At first it's kind of intimidating, but it's not really like that anymore," shared Brian. "The dude is not like what TV makes him out to be. He jokes around with us. He's cool."
Really? Maybe I will audition to for P. Diddy's new summer reality series where he searches for a new assistant!
Making the Band 4 airs Mondays at 10 p.m. on MTV.
I'm dying to know how new mommy Jennifer Lopez has set up the nursery for her newborn twins, so I rang up Dress My Nest host Thom Filicia — who designed she and her husband Mark Anthony's Long Island home back in 2005 — to muse on what the couple might have done.
"The house is gorgeous and there is plenty of space for kids to play," he exclaims. "My guess is Jennifer will add glamorous, sophisticated touches to the room. She'll choose pieces that are modern but kid-friendly. Mark is a painter and very artistic so I can see him adding interesting details like a mural to the wall and really fun artwork. It will definitely be a hip and stylish kid's room! I'm wishing them a lot of luck. Twins are a handful."
Thom's currently sponsoring a contest to celebrate the launch of his first decorating book, due out this fall. He's searching for a deserving candidate to get a family room makeover, and the results may be featured in the book. You can get in on the action by entering at www.thomfilicia.com.
'Cause you know you wanna say, "My designer did J.Lo's place too."
Catch Thom work his magic on Dress My Nest, Wednesdays at 11 p.m. on the Style Network.