NEWS
TV WEEKLY RECAP: Ciara, Shawn Johnson and Pushing Daisies news!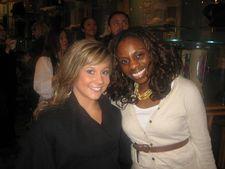 It's all about lights, lingerie and legwarmers this week!
After getting coifed at Eiji Salon in midtown (where Sarah Jessica Parker and Sarah Paulson get their tresses done), I grabbed my gal pal Rebecca and headed to the Victoria's Secret Lexington store opening party on the corner of 58th Street Tuesday night.
Singer Ciara – also sporting a fierce 'do – and I bonded over our love of the undergarment emporium's vast selection of unmentionables.
Article continues below advertisement
"I love their PJs, but I love their bras too," she cooed. "I'm a religious shopper at Victoria's Secret. Anyone will tell you they are my favorite. I have every item in the store, well, not some pieces like the $5 million bra."
Yes, Ciara, only a few chosen can be in that pretty little gem's orbit!
On Wednesday, I froze my butt off to see the Rockefeller Center Christmas Tree Lighting inside the very cold square. But my heart warmed a little listening to Kristin Chenoweth sing the holiday ditty "Do You Hear I What I Hear" during the live broadcast. She then filled me in on the depressing Pushing Daisies cancellation.
"We're going to air the rest of the season, and then we'll be done," Kristin confirmed.
Will the series be picked up by another network? "I hear rumors of it, but you just never know," she said, adding the writer's strike may have sped up the show's demise.
"It's hard to think something that helped the writers hurt our show. But we're an expensive show to produce, and when the numbers aren't astronomical… I don't get bitter about it, I just wish it were different."
Article continues below advertisement
Kristin isn't planning on jumping right into another series.
"I'm kind of not sure about TV right now, I'm thinking I just want to sing. I have concerts booked for four years."
And I've got tickets booked for the next 48 months, my fellow petite diva!
I capped off the week at the Ugg store opening, co-sponsored by Vogue magazine, on the Upper West Side Thursday night.
Olympic gold medalist Shawn Johnson showed off her hand painted, one-of-a kind boots, which are being auctioned off to raise money for the St. Jude Children's Research Hospital, a leading cancer research center.
Shawn appeared on The Secret Life of the American Teenager, but the show she really wants to visit for a second time? The Ellen DeGeneres Show!
"She was just so cool and nice, and it would be great to see her again," Shawn explained.
Who wouldn't want another chance to boogie down with Ellen?
Until next week, fellow fanatics!