NEWS
VIDEO: Dina Lohan Ready For LiLo to Leave Rehab; Talks Support From Kardashians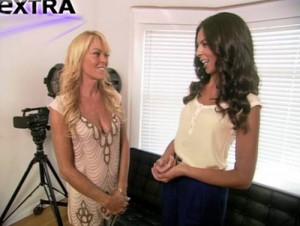 Lindsay Lohan is reportedly nearing the end of her rehab stay, even though the 25-year-old socialite only served a fraction of her 90-day stay. Doting mom, Dina Lohan opens up to Extra about Lindsay's readiness to move on with her life.
"She's just thankful and grateful for all of her fans," Dina told Extra. "They have been sending her letters and cards, and Lindsay has been answering them, so we're really pleased about that."
Article continues below advertisement
Lindsay is also getting support from Hollywood, and the Kardashian Krew has been very open about sending LiLo their love — Kim Kardashian Tweeted support to the socialite and also visited her before she began her jail sentence.
OK! NEWS: LINDSAY LOHAN TO LEAVE REHAB EARLY?
"Yeah, she's been great. I'm friends with her mom, Kris, and they've been successful in their own right as well. We love them."
Lindsay has been keeping busy in rehab, according to Dina, focusing on her 6-1-2-6 fashion line.
"Lindsay's busy every day, actually, sketching," Dina said. "We're great, we're doing well."
The actress was released from Lynwood Correctional Facility in Southern Calif. on Aug. 2, having served 14 days of her sentence, and immediately entered rehab in West L.A.