NEWS
Video: Jen Aniston's "Danny Devito Moment"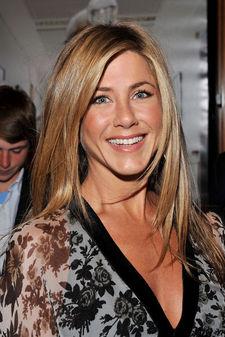 Jennifer Aniston is doing a whirlwind of promotion for her new film Marley & Me. The actress, who is rarely seen in the spotlight, was in NYC where she stopped by for a little chat with the ladies of The View where, among other things, she talked about turning the big 4-0 in Feb.
CLICK HERE for OK!'s Ultimate Jennifer Aniston Gallery!
"I'm proud of being almost 40," Aniston joked, adding, "They say it's just a number and it's just not how I feel. I feel better than I did in my twenties and my thirties."
Article continues below advertisement
Aniston, who said she plans to spend the holidays at home with friends and family, said she feels like she's in a good place in her life, telling the ladies, "I don't know how, I don't know when, but there's just something that clicks."
Maybe that "click" has something to do with Jen's rocker boyfriend, John Mayer! The ladies stayed away from questions about Jen's man but did want to know how she stays so fit.
"I work out like every other day, I run, do yoga, eat well, you know, all the basic things" she said.
Whatever she does, it seems to be working. Jen played down her nude photoshoot with GQ Magazine, saying she wasn't trying to project a new image by doing the cover.
"There were supposed to be different stages of undress," she explained. There were supposed to be men in a tuxedo, and then me in a gown, then all of a sudden I would be wearing the man's shirt. They were supposed to get naked and somehow I don't know what happened!"
Ever the jokester, Jen quipped, "They got me bombed! I had a Danny Devito moment!"
Check out the entire interview below!