NEWS
VIDEO: Leighton's a Good Girl Gone Bad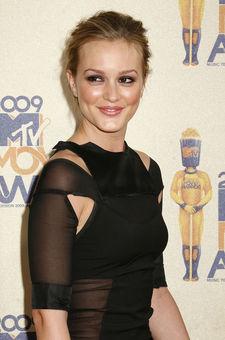 Leighton Meester's no stranger to playing a good girl with a mean streak on Gossip Girl, so it's no surprise that she co-wrote a song with Cobra Straship called "Good Girl Gone Bad."
It's also not a shocker that Leighton, who lends her vocals to the song as well, has snagged a record deal in the meantime, with Universal Records.
In the video for the song, Leighton plays a club girl partying it up downstairs who disturbs the deli guys working hard upstairs.
Article continues below advertisement
And while the music video isn't released yet, here's a sneak peek of the video with some behind the scenes footage and interview with Cobra Starship's Gabe Saporta.
Check it out:
<embed src="https://media.mtvnservices.com/mgid:uma:video:mtv.com:398194" width="512" height="319" type="application/x-shockwave-flash" flashVars="configParams=type%3Dnetwork%26vid%3D398194%26uri%3Dmgid%3Auma%3Avideo%3Amtv.com%3A398194%26startUri=null" allowFullScreen="true" allowScriptAccess="always" base="."></embed><div style="margin:0;text-align:center;width:500px;font-family:Arial,sans-serif;font-size:12px;"><a href="http://www.mtv.com/music/artist/cobra_starship/artist.jhtml" style="color:#439CD8;" target="_blank">Cobra Starship</a> - <a href="http://www.mtv.com/ontv/" style="color:#439CD8;" target="_blank">MTV Shows</a></div>