NEWS
VIDEO: Lindsay Lohan's Road to Rehab Gets Animated!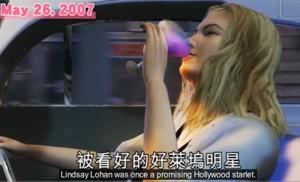 Lindsay Lohan's road to the slammer/rehab has become global news. One Taiwanese news channel even developed an animated news piece interpreting Lindsay's road to rehab, complete with her DUI, court room chaos and dad Michael Lohan!
The channel took some creative liberties with the story — like Lindsay drinking a purple drink out of a martini glass while driving her Herbie Fully Loaded Volkswagen Bug — but the time line is pretty on point!
Article continues below advertisement
Michael and Kate Major even get their own scene, in which Michael throws his shoe at a very portly Kate.
What a way to document Lindsanity!