NEWS
VIDEO: Lindsay's Lynwood Neighbor Gives First-Hand Account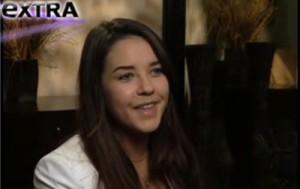 Pretty Wild star Alexis Neiers has opened up once again about her time in Lynwood with jailmate Lindsay Lohan. The reality star dished to Extra about the state of chaos that ensued when LiLo was sentenced.
"They were playing the news... the girls we screaming... it was really insane. From 6:00 in the morning on, it was just mayhem," Alexis told Extra.
Article continues below advertisement
"It's unreal because it's already loud in there and you are already dealing with the fact that it's cold. And she came in and she didn't look happy. It's a very, very scary experience. It's petrifying"
According to Alexis, the jailmates even proposed to Lindsay, screaming "I love you" and "Marry me Lindsay."
Alexis was incarcerated for being an accomplice to Hollywood's "Bling Ring" — a group of young robbers, who allegedly broke into the homes of Orlando Bloom, Audrina Patridge and even Lindsay.
"I witnessed something I never wanted to be a part of," she explained to Extra of her crime. "I witnessed a robbery. I witnessed someone robbing a house. I didn't know whose house it was."
The reality star said the toughest part about being locked up was dealing with the other inmates.
"I would have girls come up to my cell door and just stare at me. There's nothing you can do."