NEWS
VIDEO: Miley Cyrus Chats About 'The Last Song'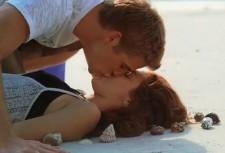 Miley Cyrus and on/off screen boyfriend Liam Hemsworth share some passionate kissing scenes their upcoming movie, The Last Song. In a short featurette for the film, Miley, 17, gives fans a little background info on who her character, Ronnie, and Will (Liam) really are. "Ronnie and Will are very different," Miley says.
"She's a little more independent with not a lot of money; he's very wealthy, very taken care of by his parents. He has it a bit easier… on the surface."
Article continues below advertisement
Director Julie Anne Robinson says Miley and Liam have instant chemistry!
OK! HOT GALLERY: MILEY & LIAM'S SUNDAY STROLL
"You could tell from that very first day that the chemistry was there. There was not fear there from either them. And that was really good news for me.
The Last Song hits theaters on Wednesday, March 31.