NEWS
Vikings QB Brett Favre Fined $50,000 by NFL for Jenn Sterger Scandal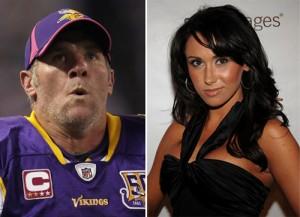 Looks like the NFL is not ready to let Brett Favre off the hook just yet. The league continues to investigate an ongoing scandal involving pornographic pictures the Vikings quarterback allegedly sent to Jets sports reporter Jenn Sterger. Brett has not yet been suspended by the powers to be at the NFL (as Jenn had campaigned for); however, the footballer is ordered to pay a price for his "failure to cooperate" in the case. The football star was fined $50,000 today by commissioner Roger Goodell for not cooperating with the NFL during their investigation of lewd messages Brett allegedly sent to the Jets sports reporter while he was quaterback for the NY team in 2008.
Article continues below advertisement
OK! NEWS: JENN STERGER WANTS BRETT FAVRE SUSPENDED FROM NFL
The statement from the NFL (via USA Today) reads:
On the basis of the evidence currently available to him, Commissioner Goodell could not conclude that Favre violated league policies relating to workplace conduct. The forensic analysis could not establish that Favre sent the objectionable photographs to Sterger. The review found no evidence to contradict the statements of both Favre and Sterger that they never met in person, nor was there anything to suggest that Sterger engaged in any inappropriate conduct.
However, Commissioner Goodell also determined that Favre was not candid in several respects during the investigation, resulting in a longer review and additional negative public attention for Favre, Sterger, and the NFL. The commissioner notified Favre that he has been fined $50,000 for his failure to cooperate with the investigation in a forthcoming manner. Commissioner Goodell stated to Favre that if he had found a violation of the league's workplace conduct policies, he would have imposed a substantially higher level of discipline.
Article continues below advertisement
Goodell also explained that he plans to use the money from Favre's fine to fund a training program for employees.
"Every member of every club's staff should be able to work in an environment free of harassment or hostility, and one in which every employee is valued, respected, and given a full opportunity to contribute to the goals of the club and the NFL," Goodell added.
"Our new training program on workplace conduct will help all of us to promote the right kind of environment for all employees and I intend to dedicate the fine I have imposed on Favre to help fund that training program."
We have a feeling Jenn will not be satisfied with the NFL's current ruling.
"If the NFL commissioner suspends Favre and puts him in a program to make sure this doesn't happen again … 100 percent … Jenn would not pursue any litigation against Favre, against the Jets, against anybody," her rep said recently.
Jenn's rep also claims that before the scandal first broke, Brett's agent attempted to pay the reporter off.
"He asked me is there a specific figure you had in mind to make this go away."
Brett's has denied sending inappropriate photos.
His wife, Deanna Favre, has briefly addressed the scandal, saying, "I'm a woman of faith," she said. "Faith has gotten me through many difficult struggles. It will get me through this one."