NEWS
Watch Andy Samberg's Attempt at Breast Feeding With Kathie Lee Gifford on 'Today'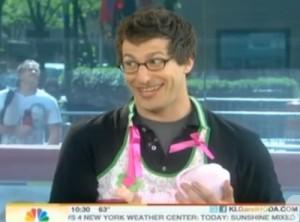 Leave it up to Saturday Night Live's Andy Samberg to attempt to breastfeed on morning TV! The Lonely Island frontman strapped on an apron and showed his contentment while breastfeeding a fake baby with Kathie Lee Gifford on the Today show.
"I found this little lady backstage and she seemed starving. So, I'm doing my duty," Andy said as he cradled the baby doll. "She's hungry."
Article continues below advertisement
"Now, what the audience doesn't know is he's been sitting here with us for six minutes the entire time doing it. And, literally, while we're talking about other things, he's cooing, rocking and taking care. You have lovely, nurturing instincts," Kathie Lee, who showed off the breastfeeding doll with her co-host Hoda Kotb early on their show, said of Andy's nurturing techniques.
"Well, thank you very much. Mama raised me right," Andy quipped.
Catch the clip, via NBC, below!
Visit msnbc.com for breaking news, world news, and news about the economy