NEWS
Watch 'Bachelorette' Ashley Hebert Slam Bentley Williams With Some Bleeps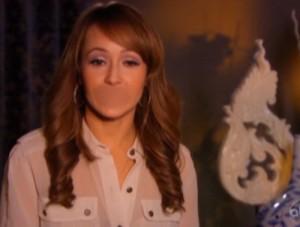 Ashley Hebert finally put Bentley Williams in his place last night on The Bachelorette. The 28-year-old single dad from Salt Lake City traveled halfway around the world to Hong Kong just to give Ashley the "closure" she needed. They last concluded their relationship with a "dot dot dot" from Bentley, but Ashley demanded some sort of ending, and she got it.
At first Ashley seemed hopeful that Bentley was possibly there to try to win her back.
Article continues below advertisement
But as soon as Bentley opened the door, it was obvious he had not changed. He even backed away at first when Ashley went in to kiss him.
She explained that she couldn't get past their "dot dot dot" ending, and it wasn't that "someone" left — it was that he left.
"Knowing that I'm home, it doesn't look good for me and you. And I would implore you to do all you can with what you have here, I guess," the laid-back Bentley said, in his usual tone.
Ashley then (finally) realized Bentley may have been there for the wrong reasons, like her pal Michelle Money originally said.
In reference to Bentley being there just to play with her emotions, Ashley said, "If that's what you wanted, mission accomplished. Mission f***ing accomplished."
"Maybe we should call a period," Bentley finally admitted to Ashley.
Article continues below advertisement
"You came all the way here! You couldn't have called?" she asked, looking into his eyes, seemingly baffled that he traveled "halfway around the world" for her with no intention of rekindling their flame.
"I wanted to see you," he maintained.
They stared at each other for a while before Ashley finally declared, "Guess that's it," and walked out.
"I needed this time away from him to really see through him," she said. "He knows exactly how to talk to a girl, to get them to believe what he wants them to believe. He's that bad boy that wants to play women and has so many issues in his head. He's such a player."
Then, staring directly into the camera, Ashley added, "He disrespected me — like, to the core — and I don't understand what I ever did or what anyone could ever do to make someone treat them that way. You know what, Bentley? If you're watching this, f*** you. I'm done with you."
Catch clip, via TV Squad, below. Do you think Ashley was swooning over Bentley at first? Sound off in the comments.