NEWS
Watch Bentley Williams Break 'Bachelorette' Ashley Hebert's Heart: "I Played Everyone"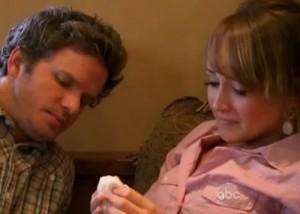 After only three episodes, Bentley Williams finally accomplished what he set out to do — break Bachelorette Ashley Hebert's heart. This season's villain went out in a truly malicious manner, pretending the reason for his departure was his daughter, when in reality Ashley just wasn't his "type," as he longed for Bachelor Brad Womack's choice Emily Maynard.
Last night's episode could have been entitled "Ashley Hebert's Sobfest," as the 27-year-old dental student couldn't seem to catch a break.
Article continues below advertisement
On the group date, Comedy Central's Roastmaster Jeffrey Ross hosted a roast session for Ashley, where the guys were supposed to poke fun at her.
William, 30, from Fostoria, Ohio, ran into dangerous territory when he quipped he was hoping for Emily or Chantal O'Brien to be the next Bachelorette.
The joke led Ashley to tears, and of course Bentley was there to pick her back up.
"I'm not going to give up an opportunity to mess with her head," he told the cameras as his competitiveness kicked in.
The irony? Bentley, from the beginning, has been saying he had hoped for Emily himself.
He then continues to comfort a sobbing Ashley: "You have everything, are you kidding me?" he said. "You have everything a guy is looking for.... beautiful face, great dancer."
"I feel like he is a real guy," Ashley gushed. "I don't feel like he has an alternate agenda."
Article continues below advertisement
Bentley continues to lie to her face: "Let me tell you this, out of 25 guys, at least 24 of them were really excited it was you."
As Ashley's attraction to Bentley continues to grow, she decides to fill him in on the texts she got from Michelle Money, warning her that Bentley was there for the "wrong reasons."
"Bentley will be there for a couple of weeks and then go home," Ashley said, explaining the texts she got from her fellow Bachelor castmate. "He's there to promote his business."
She added: "I feel something for you, but I'm scared you are that person that's here to hurt me."
And of course Bentley continues with his charade: "I don't know what you heard. I don't feel like it really applies to what we have going on here at all. I have a feeling this might be coming from Michelle. She knows my ex-wife. I wouldn't say that would be a great source of information. I don't know really what else to say about it."
Article continues below advertisement
And then Ashley dropped the bomb, setting the audience up for Bentley's dramatic and devastating departure.
"If you did choose to leave it would be harder then anything I ever went through last time I was here," she explained.
"There's a feeling there for sure," he assured her. "I'm totally on the same page with you. Following you every step of the way."
Ashley gushed to the cameras: "My heart races when I'm with him. I feel warm, comfortable, protected... I feel like I can trust him forever."
Bentley's face-time with the camera goes a little bit differently.
"That was f**king close," he said. "I'm still here. Ashley is completely head over heels. I'm probably going to get a rose. "
When Ryan P. receives the rose on the group date, Bentley is finished.
Article continues below advertisement
"For her to give another guy the rose, helps me justify it in my mind that I'm checking out," he explained. "I'm scared it's going to hurt her a little bit, but I'm gonna stand behind it."
As Bentley prepared to leave Ashley and lie to her face, Ashley continued to gush about how much she cares about him.
"My one-on-one with Bentley was so great last night," she said as she walked around outside her L.A. compound. "I completely fell in love with Bentley last night. There's something about him that's so sincere. I just know he's my guy. If it was up to me, I would grab Bentley and run to Salt Lake City... honestly... a husband."
Bentley is seen back at the house packing his belongings and moving on.
"I've been saying from the beginning she's just not my type. I want to be on the first plane back ASAP," he explained, adding, "I really miss my daughter, but I'm not leaving because of my daughter. I'm not really into Ashley so regardless of Ashley's emotions I know it's the right decision for me. I think the other guys are going to be shocked."
Article continues below advertisement
He lies to the fellow contestants, using the daughter card.
"These tools, these freaking idiots they believe me," he said to the camera laughing. "All the guys know I'm a frontrunner. None of them have any idea that I don't care about Ashley. I had the opportunity and I played everyone. That is something that has never been done before."
He continued: "I came in thinking that Ashley was not attractive at all. I knew for a fact I wasn't going to fall in love with her. I need to say goodbye to Ashley. The time is now. Heartbreak is worse than any illness in my opinion. It's not just physical pain, it's emotional pain.... but it has to happen. The only other option that I have is to stay and I know that's not an option for me"
"I'm gonna make her cry. I hope my hair looks okay."
And as if it couldn't get any worse, Bentley's comments continue to become more insulting.
"I came into the Bachelorette hoping it was Emily. She's such a standout. She's so breathtakingly beautiful that Ashley can look like an ugly duckling to me and if I'm not interested in the girl, I'm not gonna stick around."
Article continues below advertisement
"I'm not sure how exactly this is going to go," he said right before he met Ashley. "It's like a trip, dude; it's in my head... I need to go poop it out."
Bentley showed up at Ashley's door looking all sappy and upset and gets right on with it: "This morning I missed my daughter more than anything...."
An awkward silence prevails and Ashley knows what is coming.
"Are you leaving?" she asked.
"Yes," he responded.
"Are you coming back?" Ashley continued, tears welling up in her eyes.
"I don't think that's an option," Bentley explained. "I know you're here to find love and I've been telling you from day one what I'm thinking and how much I'm thinking about my daughter, and I woke up this morning feeling my daughter really misses me. The thought of her wondering where daddy is, is too tough for me to take any longer. The thought of her asking mommy where dad is, kills me."
Article continues below advertisement
"I would bring her here if I could," Ashley said sobbing. "I don't know if this is going to work for me now. I thought about the end. I pictured you there."
Bentley lies back: "It blows my mind too."
Then he goes on to say more jerky things to the camera.
"I actually started to tear up a little bit," Bentley told the cameras, proud of his acting ability. "It didn't go any better than I thought it was going to. I was worried it was going to go that bad and it did. There was just a lot of crying, a lot of crying. It's annoying to hold a girl that's just crying, and crying and crying. I literally checked out you know. It was a lot of hugging a lot of tears, a lot of kissing. I kissed her neck a bunch."
He even went as far as saying: "I started to try and like turn her on a little bit."
"She was standing up on the couch and she wrapped her legs around me, and I was like we are in a great position to start something good right now. Because she was like straddling me. She was like in my face. I don't know."
And if we didn't get the point by now, Bentley added: "I talked to her like I would talk to a girl that I'm really interested in, but I'm not interested in her."
Article continues below advertisement
He then goes on to give her hope for the future.
"The only thing to do is close a chapter," he explains to Ashley as he rubs her head and tries to comfort her. "Even if I'm not coming back, I still want to keep the dot dot dot there. Dot dot dot is better then just a period. I hope you feel that and know that and understand that.
She shakes her head in acknowledgement.
"It wasn't a quick departure," Bentley said as he left Ashley behind. "I'm thinking how am I going to get out of this because I'm definitely done on the Ashley front. Looking back things could have turned out differently if the Bachelorette was Emily."
Ashley is left sobbing in her bed: "Why, why, why this. I don't know what to do. How can I do this?"
"I never knew I would come in here and so soon be heartbroken," she sobbed. "I'm ready for my happy ending and I thought it was with him. My heart is like totally broken. Was I wrong about everything?"
"I chose to believe Bentley, I still believe Bentley — were my instincts wrong?" she questioned again. "I'm scared there is not enough time to heal from that and then fall in love again."
How could Ashley be this into Bentley so quickly? Is it the bad boy image? Does any of the drama seem staged?
Watch his dramatic departure below and sound off in the comments.