NEWS
Watch Glenn Close as a Man in 'Albert Nobbs' Trailer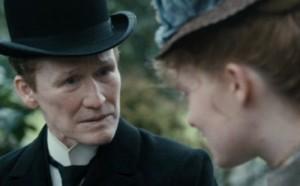 A first look at Glenn Close as a man in the highly anticipated film Albert Nobbs has been released. Glenn is already gaining Oscar buzz for her role as a 19th century Irish waiter who conceals her identity.
Albert Nobbs is a story about a woman who hides her identity and gender to survive and thrive in her own business venture in a sexist world.
Article continues below advertisement
Glenn played the role on stage in the 1980s and worked on the movie for close to 20 years.
Mia Wasikowska stars as Albert's younger love interest, which provides one of the most interesting points, and as Close told The Daily Beast in September, one of the most confusing.
"I don't think she knows if she's gay," Glenn told the Daily Beast last month. "She has no knowledge of sexuality. She disappears for her own protection but she happens to disappear into a job where you're expected to be invisible, so she's an invisible person in an invisible job, and that makes her lose sight of herself."