NEWS
Watch John Stamos Spoon Bob Saget For His 'Stamos Snugglefest' Cuddle Guide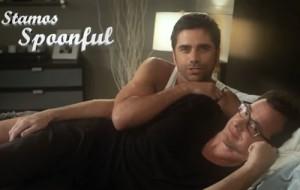 No one is hotter than Uncle Jesse — so who better to take love advice from? Tall, dark and handsome John Stamos is giving mankind some very important advice about how to please your lady in the most important bedroom activity — cuddling!
In a hilarious spoof video for College Humor, John presents his ultimate guide to cuddling, the "Stamos Snugglefest" during which he refers to himself as "one of the most handsome men you can think of off the top of your head."
Article continues below advertisement
OK! NEWS: JOHN STAMOS LANDS LEAD ROLE IN DEAD LAWYERS
"Being a noted Lothario, people often ask me for sex advice, but guys, if you truly want to win over a woman the real key is the cuddle," John begins in his sexy voice, wearing a tight, white, ribbed tank top. "So as my gift to you, here are the techniques of my patented Stamos Snugglefest."
He then proceeds to demonstrate the steps — the Stamos Soother, the Stamos Spoonful, the Stamos Swaddler etc. — enlisting the help of his Full House co-star Bob Saget.
"The pitter patter of your heart will reassure her that you are still alive," John explains.
"Next you want to move into the Stamos Spoonful, it's a gentle way to show your lady what she has to look forward to later," he continues at he spoons Bob! "Be careful not to let your arms get trapped beneath your special gal, this is worse than death. Gently cup her perky breast, or the rest is up to you."
Article continues below advertisement
One of the most important steps comes at the end with cuddling move, the Stamos S'Touching, where you feel your lady's curves "like a cartographer of her female form."
"With the right affection and tenderness my Cuddlefest guarantees that your woman will stay most cozy," John says at the end of his tutorial.
"That's right," Bob says smiling, until he realizes it's John behind him and yelps, "What the f***!"