NEWS
Watch Miley Cyrus in 'Hannah Montana' Finale Preview!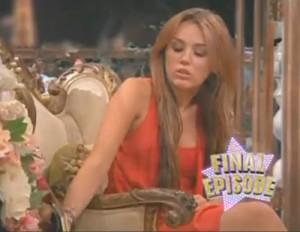 Breakout the Kleenex — Miley Cyrus is about to make her grand departure from the small screen. Hannah Montana Forever comes to a close this Sunday, Jan. 16 with its finale episode, ending its five-year run on the Disney Channel.
Miley, 18, has been facing some of her own drama involving some recent experimenting with drugs, but her character's dilemmas in the Hannah finale are way more PG.
Article continues below advertisement
Miley battles with the decision of going to college with best friend Lilly and pursuing a normal life, or taking her Hannah Montana career to the big screen.
Catch the sneak peek below! Are you sad to say goodbye to Hannah?