NEWS
Watch Out for the New Kat McPhee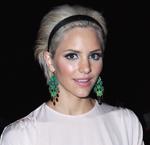 Forget what you know about the former American Idol runner-up Katharine McPhee, because the only similarity between the singer who came in second to Taylor Hicks and the woman you hear today is her amazing voice. McPhee has made some major changes in her life — new style, new sound and new hair color! And in an interview with PopEater, she talks about the new direction of her singing career for her latest album Unbroken and single "Had it All."
Article continues below advertisement
"Coming off of the show that I did and making the record as fast as I did, I always just sang," she explains. "I didn't develop myself as an artist and know who I was and where I wanted to go."
Her new album coming out in January shows a different side of the singer's personality that we haven't seen before.
"One thing I wanted to do was really feel like I was singing a song, a melody line," she says. "My first record was more of like a pop-driven record, but I really just wanted to sing a song with a simple melody."
She adds, "I think spending a whole year trying to figure out where I wanted to go musically and who I was really as an artist comes out in this music. It's real discovery and the hardships that I went through and trying to discover musically who I am in a more grown up perspective."
As for the change to short blonde hair Kat says, "I felt like seeing what it was like to be blonde with short hair and doing something people wouldn't expect. It's fun. Now I wake up in the morning and look in the mirror and see a different person. Maybe six months from now it will be a redhead."
Article continues below advertisement
McPhee married last year and is already talking about starting a family — though not all that seriously.
"I'm pregnant with four children and I'm really looking forward to it," she jokes. "No, I'm still married, no real controversy going on right now. I might adopt a child from China like Katherine Heigl just did, but I'll have to go there and see how it works out. Just kidding again! No, I'm just trying to get this record out and trying to enjoy it!"
Kat McPhee as a blonde mother-of-four might be too much for us to get used to!