NEWS
Watch Petra Nemcova's Journey on 'Dancing With the Stars'!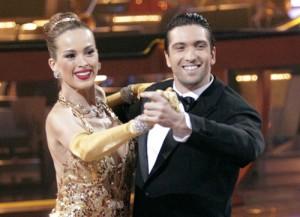 Petra Nemcova gave her final performance last night on Dancing With the Stars as she was the latest contestant to be voted off, after five weeks of competition. A gracious Petra said her farewells with partner Dmitry Chaplin by her side. OK! takes a look back at the supermodel's journey on DWTS.
Petra did want to make one point clear before she left.
Article continues below advertisement
"Some people today were saying that I talk about Happy Hearts Fund to get votes. That hurt because it's not true," a visibly emotional Petra told OK! after the results show. "It's who I am. People say, "Oh, she's a supermodel." But what I do almost every single day is rebuild lives for children. Happy Hearts is my life, it's not for votes.That's maybe something that didn't translate well completely."
Other contestants defended their pal, speaking to her character and strength.
"Petra has the biggest heart," Romeo shared with OK!. "I remember one day someone broke into my car stole my wallet and my jewelry and Petra, we were the last ones at the rehearsal studio, she told me, you got it in your memory, you got it in your heart. She was right. All that material stuff, you can always get it back."
Article continues below advertisement
His partner, Chelsie Hightower echoed that sentiment.
"I love Petra so much, and she's such an amazing person," Chelsie gushed to OK!. "She actually dedicates her whole life basically to her charity, and that's the reason she came on the show, to promote her Happy Hearts charity. To meet a person with such heart and such passion for giving back to people, is amazing."
Hines Ward said everyone will miss Petra's upbeat attitude the most.
"She's so compassionate about kids and giving back. I've never heard a negative thing come out of her mouth," Hines shared with OK!. "She embedded that on everybody. To be compassionate and loving. Even when she was kicked off she was just excited for the opportunity and bringing awareness of what's going on. Not only is she a supermodel, but a good-hearted person."
Watch Petra's journey on DWTS in the clips below.
Week 1 — Fox Trot
Week 2 — Jive
Week 3 — Waltz
Week 4 — Paso Doble
Week 5 — Quickstep
Week 5 Results Show