NEWS
Wednesday Night TV Roundup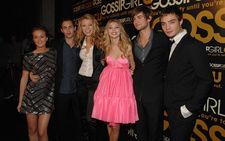 TV Fanatic and OK!'s Joyce Eng and Derek Ivie break down your fave shows of the night!
Gossip Girl: "Nate (and Chuck) took a week off last week, but they came back in a big way. First, we must address the arrival of Vanessa (Jessica Szohr), Dan's BFF who's returned from Vermont. I'm not a fan and that's not because I'm a Dan and Serena-shipper, but because Vanessa is more pretentious than Blair's lavish masquerade ball – which, by the way, I don't understand how people can't tell who is whom behind those flimsy masks at those things. Her unexpected drop-in at Dan's loft interrupted Serena's invitation for him and launched a search for replacement suitors for S. She finds one, an affected tool who bores her with tales of how he summers in Newport. You know you're talking to pompous rich folks when they use "summer" as a verb. Dan swoops in and surprises S mid-dance, but their reunion is interrupted again by Vanessa, who reminds Dan he told her he loves her last year. "LOVED," he corrects. Ouch. She deserved it. Did she really expect everything to be the same after a year? Fool. But everything's okay for now – V and D are friends and S and D are still totally adorable. That's not the case with Nate and Blair. After failing to complete his scavenger hunt before midnight, Nate got no nookie from his gal. The dude spent all night obsessing over Serena that culminated in him telling who he believed to be Serena, but was actually Jenny, that he's still into her, which is all sorts of pathetic since the real Serena obviously doesn't feel the same way. If that doesn't make you feel bad for Nate, the manipulative exploits of his ass of a dad may. We discover papa is a cokehead – which explains the MIA cash from two weeks ago – and he pins the drugs on his son! Daddy is so going to hell! Additionally on the parental front, Rufus and Lily swap spit and reminisce on love lost in an effort to make Bart Bass, a.k.a. Chuck's dad and Lily's ex, jealous, which worked like a beauty. Also successful was the devious Jenny's revenge on Chuck that left him out cold in a wifebeater and boxers. Girl still knows how to think on her feet!" – Joyce
Article continues below advertisement
America's Next Top Model: "The show begins with the girls reflecting on past performances. Ambreal asks her father to pray for her while Heather contemplates her repetitive profile shots. A knock comes at the door and it is none other than Tyson Beckford. The girls flip out and run around screaming. Even Heather says, "Eye candy… yum!" Those girls weren't even listening to a word he said. They were all batting their eyelashes and smiling. He could have told them to crawl on all fours and bark like dogs, and they would have obeyed with a simple, "Yes, Mr. Beckford." Instead he asks them to get items from the kitchen for some sexy spokesmodel improv. This was one of the funniest scenes in Top Model history. They were all trying to be sexy with their random items. Heather made a glass sexy. Tyson even took a bite out of Ambreal's mango! Yowzaz! Their real challenge is to make a PSA for "Keep a Child Alive" (to donate go to keepachildalive.org). Heather, Jenna, and Ambreal win the challenge with their simple sign approach. Heather wins a special prize which is a photo shoot directed by Mary J. Blige. The rest of the girls are at the house having a mini-slumber party where Ebony confesses that she "really wants to go home." The girls had a photo shoot where they had to represent recyclable materials. Ambreal had dead eyes… again. That poor girl just can't bring any life into her face. Ebony… well Ebony just doesn't want to be there, and it showed. The rest of the girls served it up and Bianca rocked her "smiling eyes." Heather stayed facing forward in her shots, and Mr. Jay thought it was great. Ambreal is about to be sent packing during elimination until Ebony tells Tyra that she doesn't want to be there anymore. Ebony thinks that modeling just isn't for her. Tyra, on the other hand, thinks that Ebony just can't handle the criticism. Tyra lets Ebony leave and Ambreal gets a free pass. She is one lucky duck! Let's hope she can get that face going next week!" – Derek
Private Practice: "Guess this episode should have been called "Private Parts," cause everyone was thinking about theirs or someone else's. Addison kept having naughty dreams about Pete that would make her fall out of bed, literally. I really thought when Addison got excited over his bloody wrist toward the end of the episode and the two got flirtatious, we'd see Pete fall from his bed as he awoke from that dream scene. Naomi and Sam's 13-year-old daughter Maya came to Addison claiming she had gonorrhea, but she was really just covering for her way-to-young-to-be-sexually active friend. As Maya put it to her distraught mom after she learned of the ordeal, "I'm still a kid." Good thing. Violet went back to her sleazy ex Allan again, claiming to Cooper that just wanted to be friends. Violet, you're a psychiatrist! You know you can never be "just friends" with the love of your life that slipped away. When Allan hurt her, again, she went back to Cooper, who basically is doing exactly what Violet does every time she takes Allan back. Man up Cooper and tell her you love her! Dell's first series of pap smears were hilarious! I really don't know if there is a happy pap, but since I have an incredibly model-handsome friend who is an OB/GYN and I can't imagine how any woman can go to him without wanting to flirt in the process, I can totally understand why some women wouldn't invite Dell into Ladytown." – TV Fanatic
What did you think of the night's lineup?