Archive
Which Superstar is Ricky Martin Releasing a Song With?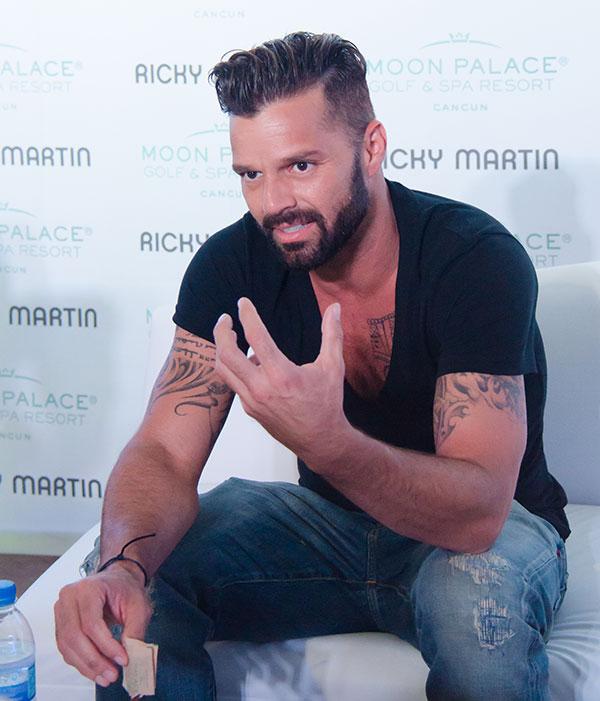 Wait for it... Jennifer Lopez. That's right! At a recent press conference held at Moon Palace Golf & Spa Resort in Cancun, Mexico, the singer told us that he's indeed teaming up with Jenny from the block, for what we can only imagine will be a major hit.
In addition to his upcoming music, Martin also spoke about where he finds his inner zen, what made him take a break from music, and how his sons make him sane, before taking the stage for a packed 15,000 person concert on the property's golf course. Read the highlights below!
Article continues below advertisement
OK! Magazine: Tell us about working with FIFA on their "SuperSong" contest for the World Cup.
Ricky Martin: I wouldn't say that I am judging the contest, although I am choosing the song with Sony Music and FIFA. It's a really cool concept that allows fans the opportunity to write the official song of the 2014 World Cup. It doesn't matter where you are from, Asia, Korea, South Africa, you can write the song on the official album.
OK!: What else do you have going on at the moment?
RM: I am releasing a song with Jennifer Lopez now and we're doing a little TV special on it.
OK!: What's your favorite song to perform live?
RM: "Living the Vida Loca" is very powerful, but when you bring out the Latin, ethnic, African sounds...that's when the people go crazy. The beautiful thing about it is that it doesn't matter where you are from, you will understand it. It's about the rhythm. It's about the sound. It's about allowing yourself to just be and who cares what people say. That's the message that I am trying to give.
Article continues below advertisement
OK!: What can we expect to see from your concert here at Moon?
RM: There's a little unplugged moment where I sing three ballads, which are my favorites, in Spanish. But it's just the guitar, the vocals, something very similar. Maybe a little accordion. We'll see when I go to rehearsal.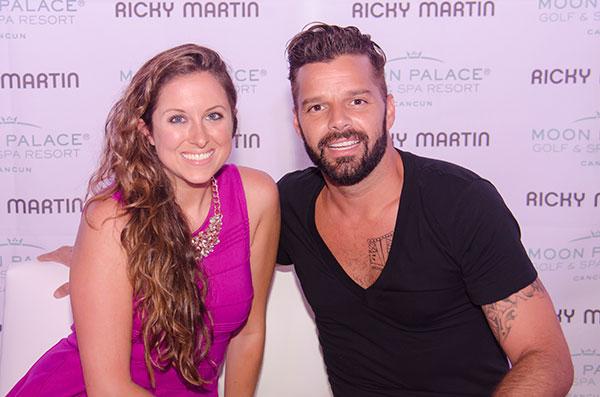 My pic with Ricky! The guy's got some serious tats, but I couldn't stop staring at his pearly whites—those babies are bright!
OK!:What's 2013 been like for you?
RM: It's been very interesting. I started with The Voice in Australia and I had no idea what it was going to be like. I just needed time to write music and I said, Australia sounds like a great scenario for me to go and write music and I have always loved that country. It was very helpful, not only for the time that I had to write music but the fact that I could spend time with young artists that were really afraid because it took me back to my beginning. They just surrendered to me as a coach to say where do I go? How do I do this? To see their transformation—it was life-changing for me.
Article continues below advertisement
OK!: What if a spot opened up on the American Voice? Would you do it?
RM: Hey, listen—the opportunity to work with young, talented people who are willing to grow as artists, it's something that I would never say no to. Yes, I am giving them all my information, but I am getting so much from them.
OK!: What's some of the best advice you gave the contestants?
RM: It's kind of case by case, but I think it's important to allow yourself to step outside of your comfort zone and allow yourself to take risk and not be afraid.
OK!: Give us a preview of what to expect on the next album.
RM: I want to go to Africa to look for sounds. I am going to Brazil and I am going to Spain as well. All this is in search of something culturally rich, very organic. I need real sounds and real instrumentation and create heavy fusion, culturally speaking. That's the white canvas right in front of me. That's what is in my mind. It could change. I also have the second CD, which could be the remixes of everything that I do. It could be like a heavy Buena Vista Social Club kind of approach. It could be come dancing. I am into this very earthy place right now and I need to go back to some heavy roots.
Article continues below advertisement
OK!: How do you strike that balance between performing and putting it on for everyone, but also knowing when to turn it off?
RM: There was a moment in my life where I did not know how to turn it off, and I got in a lot of trouble. That's when I started, you know, maturity really helps, and having people around me that, you know, told me at the right moment what I needed to hear. Then I go back into legends that are not with us anymore. You see Elvis and Jim Morrison and people that I respect and admire. They have one common denominator: they didn't know how to manage their emotions. They had to run away to artificial stuff to sustain the euphoria of the applause. I guess I was lucky enough to step back and say, hey, I need to get out of here. Hold on tight. Let me go and travel. Let me go to India, Nepal.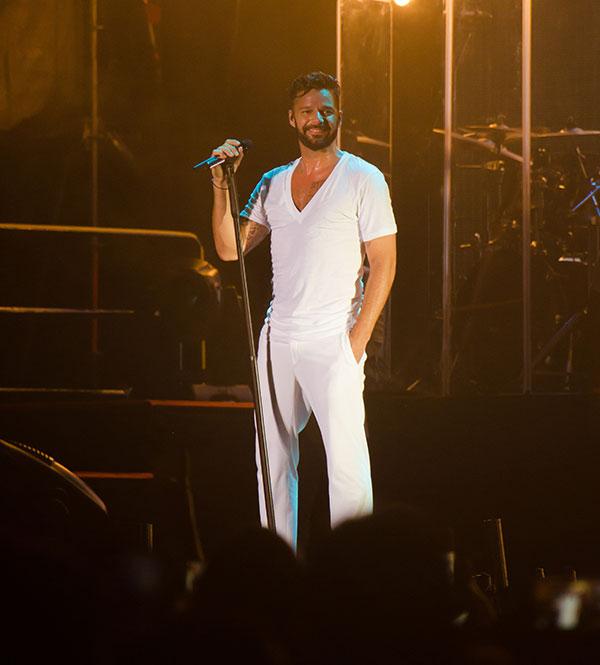 OK!: Is that where you find your zen? Traveling?
RM: I don't know if it's zen, but I find moments of tranquility and then I became a father and tranquility goes out the window again. It's another frequency and I give my kids a lot of credit, believe it or not, for my sanity. Just looking at them I know I have to do well. You know, they only have me. That helps me to find that moment of serenity, to do my yoga, to go jogging.
Article continues below advertisement
OK!: What did the boys get for Christmas?
RM: They got everything they wanted. They are into music. Grandpa brought them some heavy, tiny, Spanish guitars and they really get into it.
OK!: Do you think you have some future musicians on your hands?
RM: Whatever happens, happens. I just want them to be happy. Even, just to have music for whatever. Even if they become lawyers, if they have music to disconnect, good.
Are you a Ricky Martin fan? Are you pumped to hear his song with JLo? Comment below or tweet us your thoughts @OKMagazine and definitely check out Moon Palace for your next getaway—you won't be disappointed!