NEWS
Who is Lady GaGa?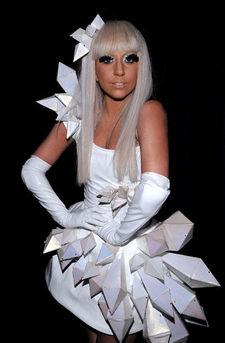 Lady GaGa is up for a best dance recording Grammy for her tune Just Dance. Thanks to Perez Hilton's praise and a top slot on the Billboard charts, her buzz is inescapable.
I couldn't wait to find out what the hype is all about when I caught up with the Muppet-looking blonde, 22, who was born Stefani Joanne Germanotta.
"It's not a persona," she tells me. "It's me -- in all my origami glory. That's sort of the whole idea. I'm a performance artist. I've been doing performance art in New York since I was 19 years old. I make the fashion, I write all the music, all the visuals that you'll see in the show tonight – I designed. The way that we use the L.E.D. with the performance in the clothing is something we put together."
Article continues below advertisement
She continues, "I dress like this all the time. It's not a look. I live and breathe it, and if they took my origami away, I would be kicking and screaming to my coffin."
How did she make it big?
"Being an artist means being private in public," GaGa says. "The first thing you've gotta do is play every venue in sight. Whether there's five people in the audience or 5,000, you always want to put your art in the room. It's not until you really humiliate yourself and fall on the floor that you really figure out who you are and the kind of records you want to make. It took me eight years of pining and pining and sweating and believing and scraping at the marrow in my bones for the right sound until I finally found it. I wrote Just Dance, and it finally happened. It's like giving birth. It's immaculate conception."
Any pitfalls of fame?
"Sometimes getting out of limos, we're not so ladlylike," she admits. "I would have to say it happened really recently with my leotard bottoms and my patent leather skirt."
Oops!