NEWS
William Shatner on Sandra & Jesse: They Could Get Back Together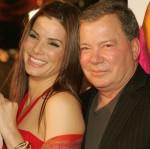 Sandra Bullock's Miss Congeniality co-star, William Shatner, tells The Insider he feels for Sandra and Jesse James. "My heart goes out to Sandra, who I know and love. My heart goes out to Jesse. I was at their wedding," he explained. "I know he loved her. That marriage, that wedding was just beautiful."
OK! NEWS: SANDRA BULLOCK'S SETTING UP HER MOVE TO NEW ORLEANS
William feels sorry for Jesse even though he made a mistake.
Article continues below advertisement
"Jesse's being tormented like a matador with a bull. The paparazzi have nothing to lose so they are constantly waving the red flags," he tells The Insider. "He's in a terrible emotional state. His whole life has been turned upside down. He doesn't know what he's doing right now. The callousness that the paparazzi show towards people isn't human. I've been there."
But, he still thinks there is a small chance Sandra will take Jesse back.
"To me it's not beyond the realm of possibility that they get back together," he says. "Jesse made a mistake."
OK! GALLERY: JESSE JAMES TAKES KIDS TO SCHOOL SANS WEDDING RING
He thinks Sandra's new life with her son Louis will be great and offers his full support.
"I think that's fantastic for her," William says of Sandra's adoption. "I wish her all the happiness. In fact I sent her a message saying if she needs anything, I'd like to help her."
For more of William's interview, tune in to The Insider tonight!