NEWS
Zac Efron Moving On & Making Out With Teresa Palmer?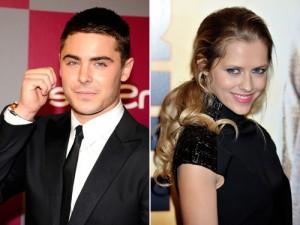 It may not have taken Zac Efron all that long to move on from his longtime relationship with Vanessa Hudgens: New reports say he was spotted getting very cozy with Teresa Palmer!
OK! GALLERY: ZAC EFRON JOIN SLEW OF STARS AT LAKERS/CELTICS GAME
It looks like I Am Number 4 star Teresa may be number one in Zac's book now!
According to E! News, Zac was getting close to Teresa at a reception Thursday night for her upcoming film, Take Me Home Tonight, at L.A.'s Pink Taco.
Article continues below advertisement
At around 10 p.m., the pair reportedly headed over to Voyeur nightclub in West Hollywood and then got even more comfortable around each other!
"They got there a little after midnight," a club insider told E! News. "They were at a VIP table... They were dancing, standing up by the table and dancing. They all took tequila shots together. He was grabbing her butt and doing very suggestive dancing. Then they made out a couple of times standing up where they were dancing. I was surprised they were doing that in front of everyone. It was like they didn't care."
OK! GALLERY: VANESSA HUDGENS HIDES HER SMILES POST ZAC EFRON SPLIT
But they didn't do that for very long.
"They were there for like an hour and left together," the insider revealed.
And that doesn't mean it ended on a bad note! The source said Zac was "all about her" the whole night and only left her side when Shaun White came up to chat!
And this morning, when E! News caught up with Teresa at a press junket for Take Me Home she said Zac "is such a sweetheart."
Sounds like like the night was a success!
What do you think of Zac and Teresa as a potential couple?