NEWS
Ali Larter Brings Baby To Workout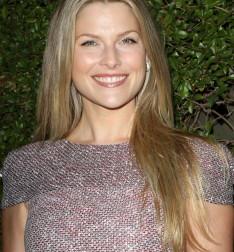 Being a married mom doesn't keep Ali Larter away from the gym. In fact, she includes her little guy, Theodore, 8 months, in her four-day-a-week, 30-60-minute regimen.
"As a new mom, time is of the essence," the actress, 35, tells me at a Reebok Real Flex event in NYC. "I'm busier than ever, and exercise has gone down to the lowest priority. But I take the baby for long strolls. I go out for a jog, hit a yoga class when I can. I try, when I do have a free moment, to be active, instead of just -- sleeping!  laughs"
Article continues below advertisement
When possible, she includes her lil' guy in her fitness routine, which includes also includes Pilates.
"I usually will bring him with me, and he'll be sitting right next to me. The sound of the treadmill will calm him."
And when he's napping, she makes good use of her time.
"I'm really lucky that I live in a place where I can leave my door and go running up in the Hills," the actress, who wed actor Hayes MacArthur in 2009, says. "That's something that I love to do, to get the fresh air and to be in nature. If I don't have the time to do that, I'll go in, I'll do Pilates, I'll grab a yoga class. It's harder for me to get away – and I think that's the case with a lot of moms. If you can grab half an hour or an hour, it's easier than having to leave and drive somewhere. You can do stuff in your house. When there's a moment, you should try to do it."
Regardless, she doesn't stress about losing the baby weight.
"There's a lot of pressure in our business, but I also believe it's a universal feeling for any mom, about having to get back in shape. But I also have had this baby, and I keep things in perspective. Yes, it's nice to get back to your pre-baby weight, but to have a healthy baby is the most important thing."
She continues, "I'm trying to be kind to myself. I'm not there yet. It's definitely a work in progress, but I'm trying to eat healthy and have fun."
For Ali, what's most important is eating what's good for her baby.
"Because I'm a nursing mom, I really believe that everything I put in my body is what I'm feeding my baby, so I really try to eat organic and to eat as healthy as possible."