NEWS
Jeff Timmons Contemplates 98 Degrees Reunion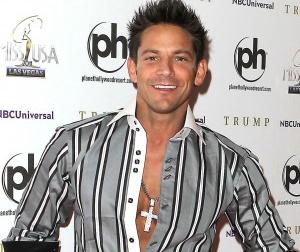 There is one boy band missing from the NKOTBSB tour: 98 Degrees!
Now that Jeff Timmons' run performing at Chippendales has been extended through Labor Day, the singer, 38, opens up about a 98 Degrees reunion, the NKOTBSB tour, Nick Lachey's wedding, VH1's upcoming boy band reality show, and those wild-and-crazy fans.
Nearly ten years after their last public performance together, Jeff doesn't rule out reuniting with the multiplatinum group whose hits included Because of You, The Hardest Thing, I Do (Cherish You), Thank God I Found You, Give Me Just One Night (Una Noche), My Everything, True To Your Heart and Invisible Man.
Article continues below advertisement
"We're always open to it," he tells me during the Miss USA Pageant held at Planet Hollywood Resort and Casino in Las Vegas. "We had talked about getting back together and being part of the New Kids/BSB tour, which would've been nice, but we couldn't put it together, so hopefully one of these days, we will. It'll be cool."
He adds, "We got together and talked about it very seriously, but everybody had so many different things going on that it didn't seem like the right time for it."
Not long ago, Jeff spent the weekend with his former bandmates, including Nick Lachey and fiance Vanessa Minnillo, whom he calls "soul mates."  (Drew Lachey and Justin Jeffre were on hand, too.)
What would he get Nick for a wedding gift?
"It's hard to say," Jeff says. "He's got everything. I think just my moral support and being there to support them. That would probably be the best thing that I could get him. He has everything else!"
Article continues below advertisement
Now that *NSYNC's Lance Bass and Joey Fatone, Backstreet Boys singer A.J. McLean and New Kids On The Block heartthrob Joey McIntyre have joined forces for a forthcoming VH1 show about dueling boy bands, what should we know about egos when it comes to male fame and fortune?
"With any job, egos exist across the board, whether you're in entertainment or not," Jeff says. "People expect it more in entertainment.  You deal with egos with any job, in any work environment. With boy bands and young guys that are coming into the limelight with girls everywhere and money, and fame – you're going to expect to deal with that exemplified in exponential ways, but I think collectively, if the group has a good grounding, then I think everything will be OK."
Hm, what would it take for a 98 Degrees reunion?
"The right opportunity and the right time," he says. "If the timing's right and we have a tour lined up or we do a record, ultimately we could get back together and have a killer time."
For now, those visiting Las Vegas can catch Jeff performing a medley of 98 Degrees hits like Because Of You, The Hardest Thing and his own song Emotional High during his Chippendales set at the Rio All-Suite Hotel and Casino.
Article continues below advertisement
Jeff provides the welcome G-rated entertainment in a land of raciness.
"It gets wilder every night," he says. "We've had girls get pretty crazy. We've had girls rush the stage; some of the girls have climbed up onstage and had to be rushed out. Girls have thrown their underwear and bras up onstage. I've had girls follow me all around the hotel, trying to find out what floor I'm on. It's been real rock starish so far!"
The attention puts a new spin on the adoration of his boy band days.
"I feel like I've seen it all in the past, but now I'm starting to see it all with older girls," he says. "Now there are more of them. Before there would be one or two 20, 25-year-old girls, but now there's a whole bunch of them. They don't have parenting around them, so they're wilder. There's no chaperones. It's crazy, but it's all in good fun. It's safe, fun stuff."
Here's my pic with Jeff at the Chippendales afterparty held in the Flirt Lounge of the Rio All-Suite Hotel and Casino in Las Vegas, and a retro pic from his 98 Degrees days:
Catch Jeff performing with Chippendales through September 4.