PHOTOS
From Wacky Hats To 'Worm' Dresses, See Doja Cat's Most Jaw-Dropping Looks From The 2021 MTV Video Music Awards: Photos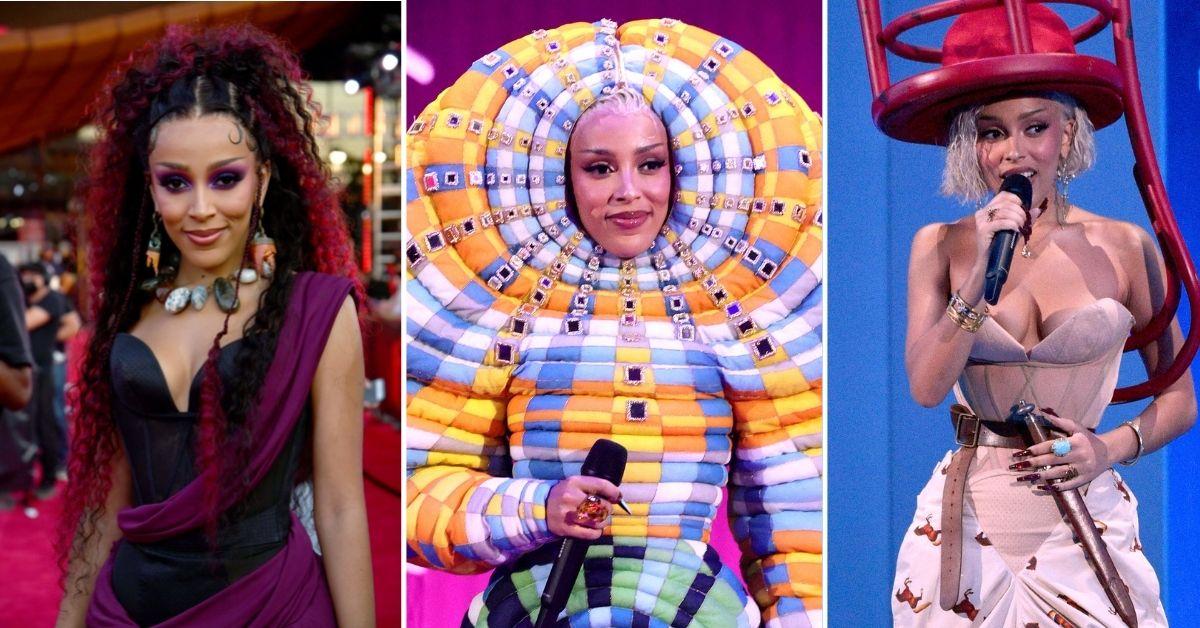 Doja Cat went above and beyond when she hosted — and performed — at the 2021 MTV Video Music Awards.
Article continues below advertisement
The 25-year-old made several outfit changes throughout the night, with each look seemingly getting more bizarre than the next. She didn't hesitate to take fashion risks with unusual accessories and mind-blowing fits — like her "worm" look.
Scroll down to see Doja Cat's most jaw-dropping looks from the night.
Sizzling Arrival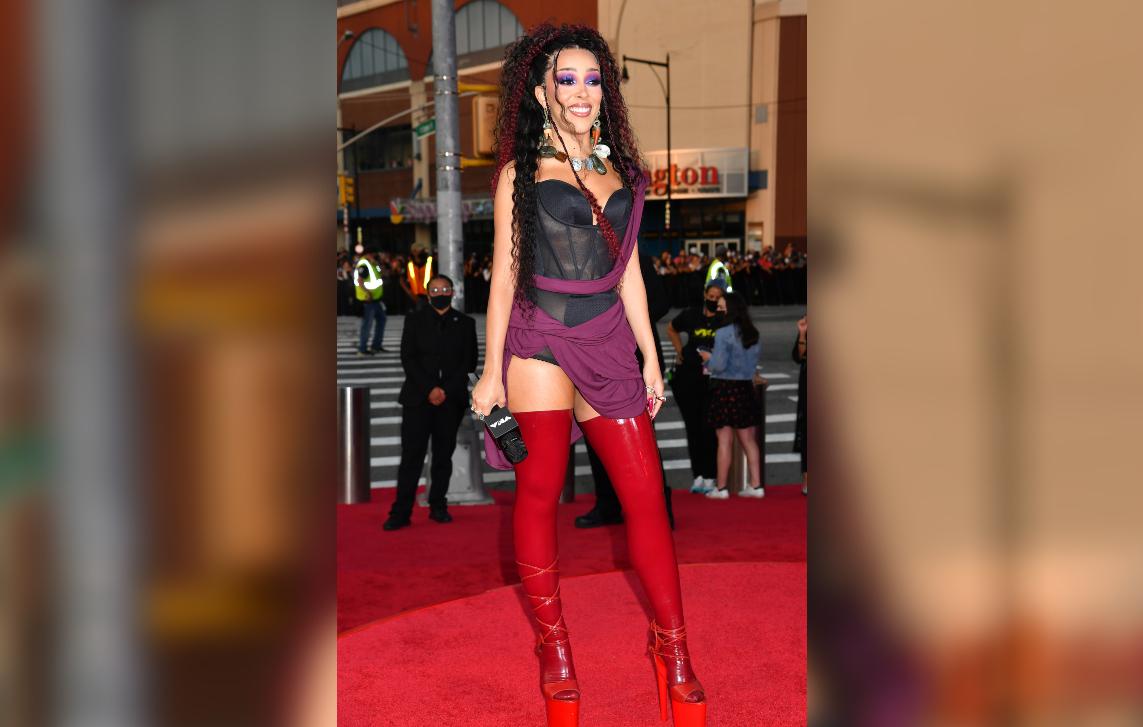 The brunette beauty appeared on the red carpet with latex red thigh-high socks paired with strappy gravity-defying heels. She wore a unique rock necklace and put a purple scarf around a black one-piece corset, with her dark tresses sporting a touch of red. Stylist J Stay Ready told Page Six the look was "inspired by rock and '90s glam. This is my version of London street style that she absolutely killed."
Article continues below advertisement
Sleek & Elegant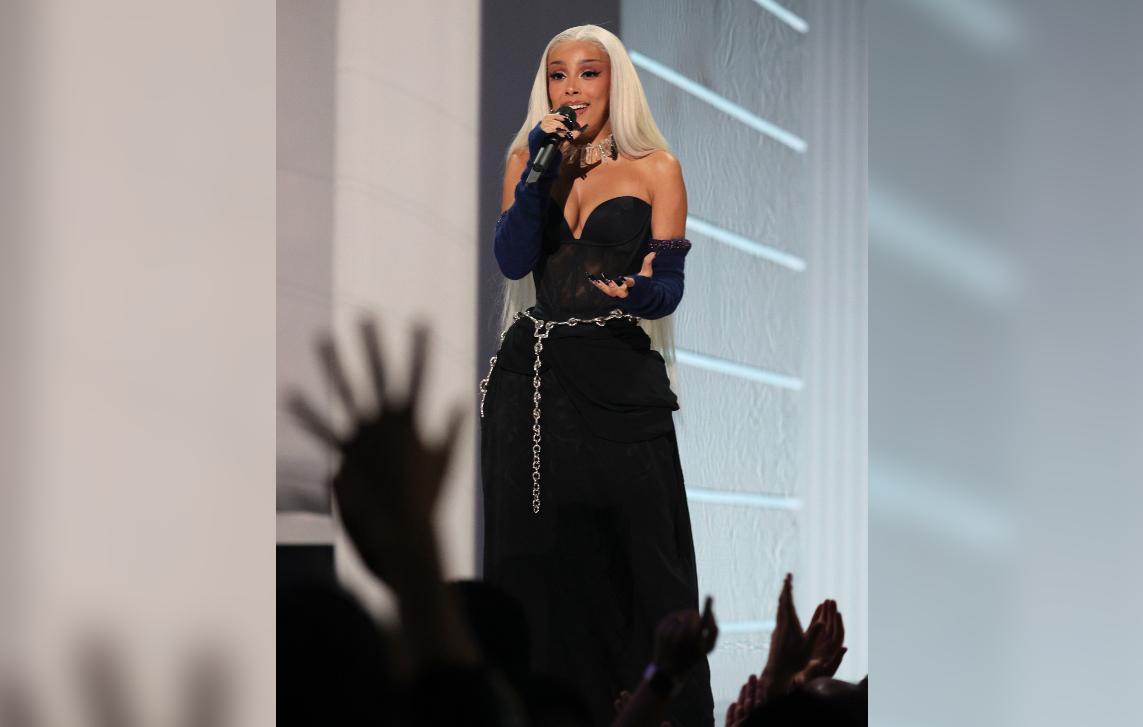 The singer rocked the black corset she arrived in earlier in the evening and put on a black pair of Vivienne Westwood pants. Doja Cat ditched her dark curly locks for a long blonde wig, and added an edge with a chain belt around her waist and blue fingerless gloves.
Article continues below advertisement
Horsing Around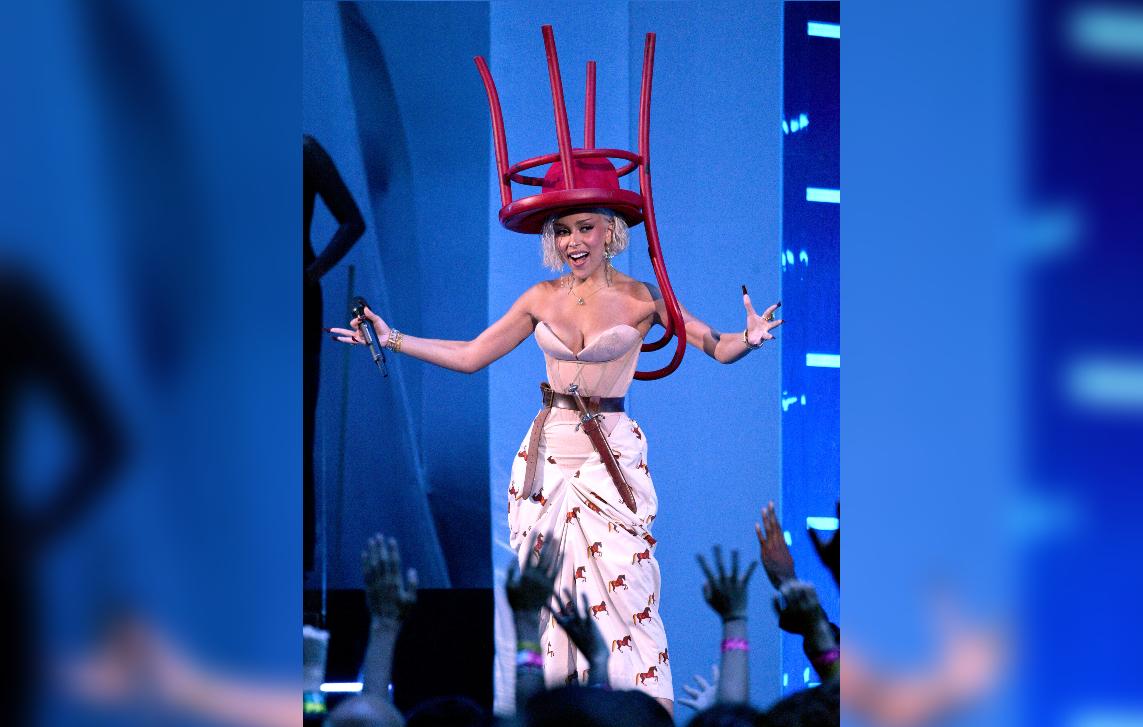 Later in the night, Doja Cat ditched her long locks for a blonde bob. The "Say So" singer wore a horse-print long skirt over a nude corset and accessorized with a sword and a chair for a hat when she introduced Tommy Lee.
Article continues below advertisement
Sitting Down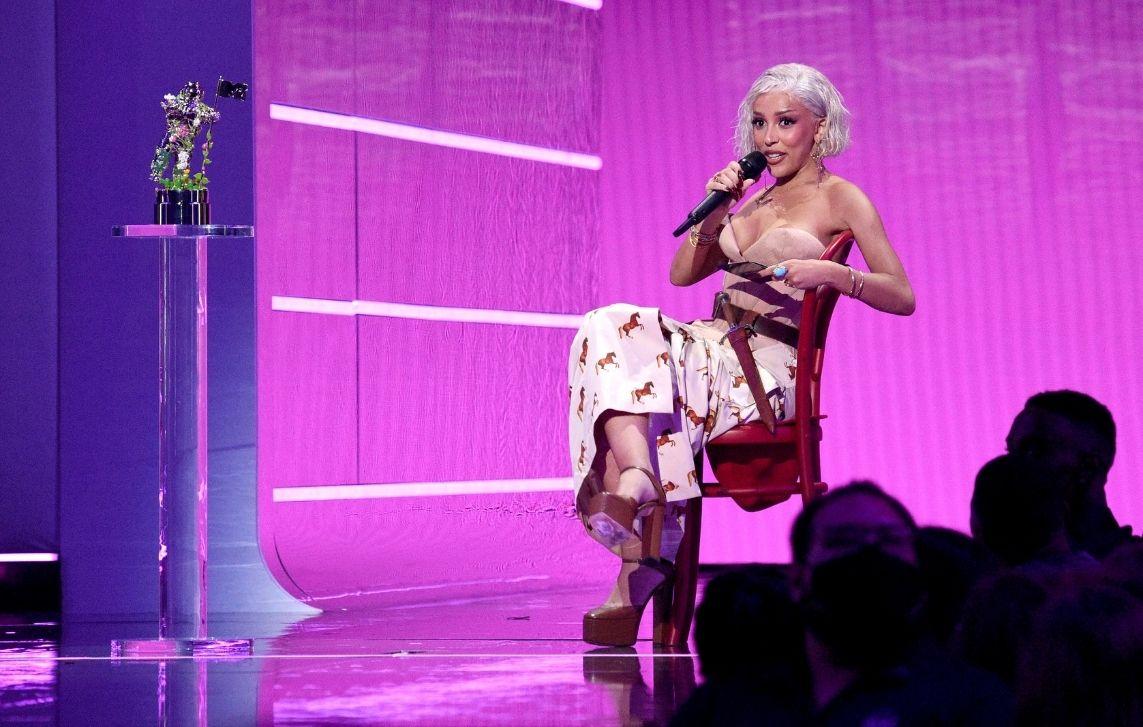 Doja Cat then showed that the chair could also be used for its intended purpose when she sat down, and gave viewers a glimpse of her chunky brown heels in the process. "I'm so relaxed," she joked while presenting Olivia Rodrigo with the Best New Artist award.
Article continues below advertisement
Defying Gravity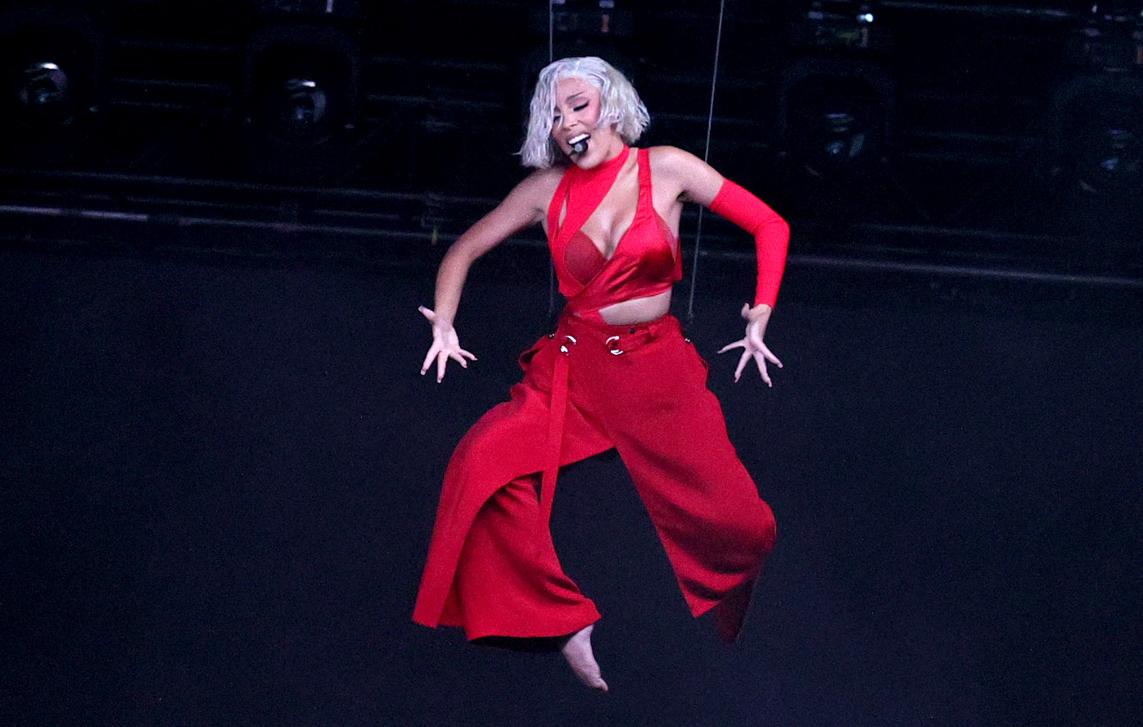 During a performance of "Been Like This" and "You Right", Doja Cat changed into a simple red pair of trousers and a matching crop top. She wowed fans with some acrobatics.
Article continues below advertisement
Worm-Fit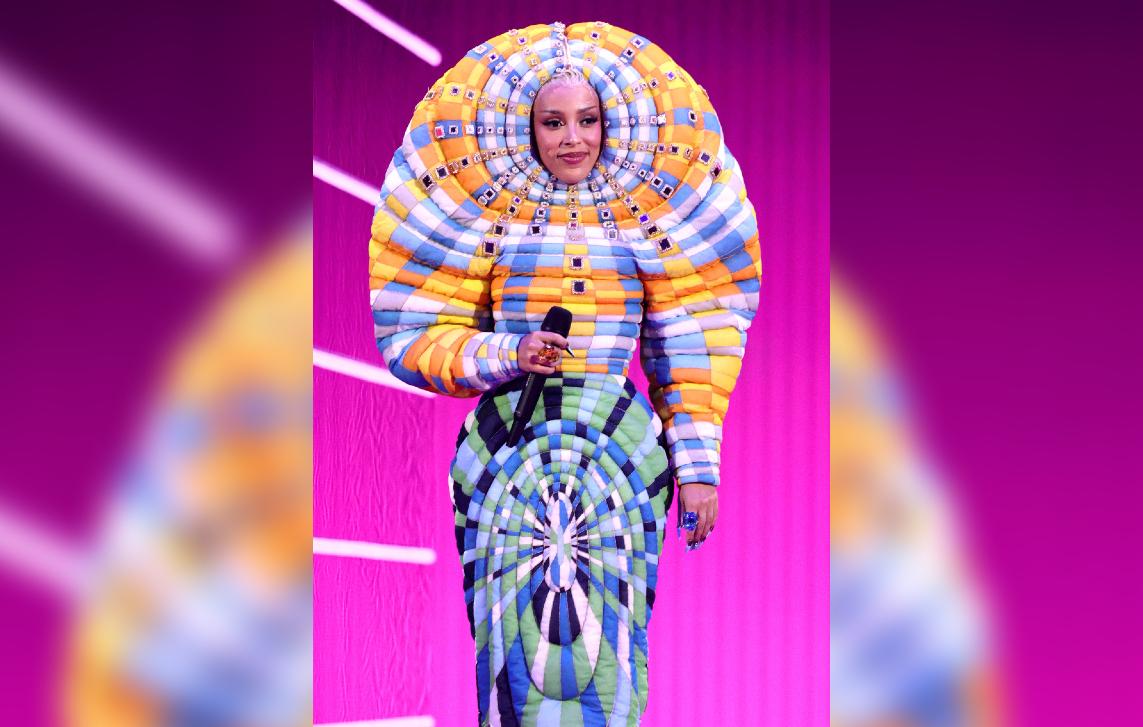 The most eye-catching look of the night was a colorful quilted dress with a hole cut out for her face. "I look like a worm. That's dope," Doja Cat said when she accepted the Best Collab award with SZA for "Kiss Me More." "I never thought I'd be dressed as a worm while accepting an award," she joked.