On The Heels Of Triller's Public Listing, Triller Sees Unprecedented Growth — Becomes The Home Of Choice For Creators Leaving TikTok Due To The Threatened Ban
TRILLER LAUNCHES ONE STEP PORTAL TRANSFERTIKTOK.COM
Article continues below advertisement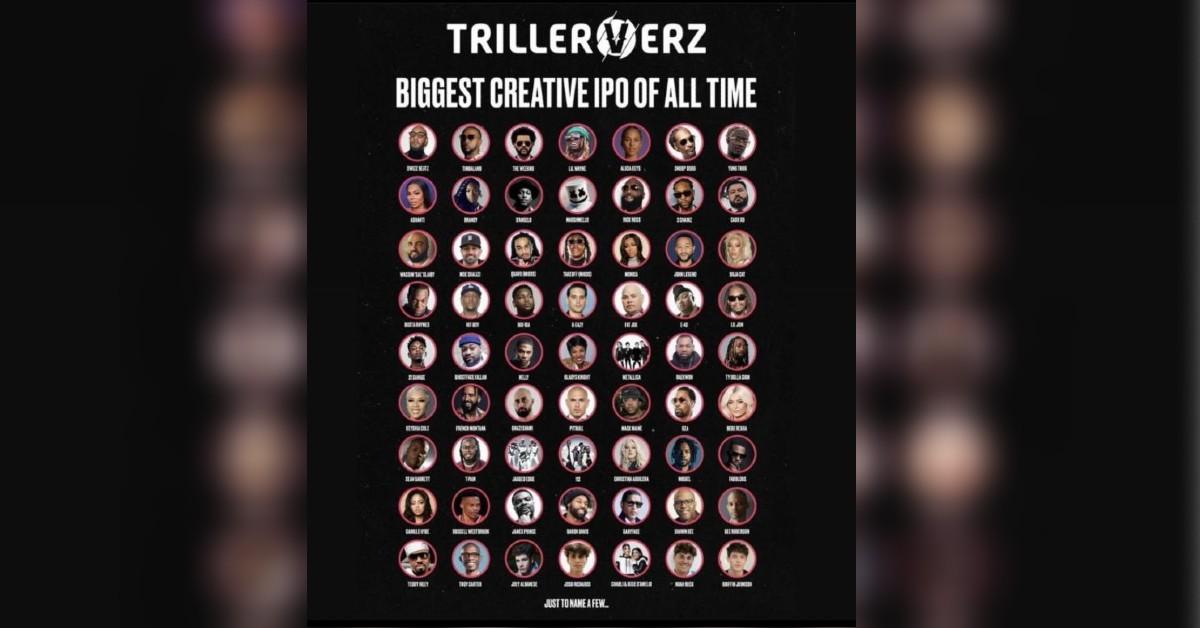 Triller has launched a one-step portal transfertikok.com in the wake of the impending ban of TikTok. Triller, and its subsidiaries, have seen an unprecedented level of sign-ups and growth across its ecosystem as people prepare for the ban of TikTok.
The app made headlines in 2020 with its record-breaking largest ever digital PPV for Tyson V Jones, as well as for taking YouTuber Jake Paul from obscurity to the center of the combat sports world.
While Triller became the only app ever to become the number one app in 80 countries when then-President Trump threatened a TikTok ban, ultimately the ban did not occur.
Since that time, "Triller has been invested heavily in building out its offering, spending over $500 million dollars to prepare for this day," said Bobby Sarnevesht, Triller's co-founder, and Chairman. "We are not just an app but an entire creator's ecosystem with over 10 sub-companies integrated, including what we believe to be the most transformative AI in the market. The toolsets we acquired or built to help creators reach, own and monetize their audience, bar none, are game changing. Nothing else can even get close to the numbers and value we are able to derive for creators from our ecosystem," continued Sarnevesht.
Article continues below advertisement
Triller's focus on empowering creators and providing its users with the tools they need to succeed has led to a surge in sign-ups and a growing community of content creators who are making significant amounts of money on the platform. In fact, almost every one of the world's top hundred plus creators has already made the switch to Triller, and hundreds of the world's biggest celebrities are active on the app.
"What people don't realize is we aren't like any other app. We encourage our users to be on other platforms like Snap, Insta, YouTube, and Twitter as, if they are part of the Triller Ecosystem, our tech works in and through all the other networks, and ---behind the scenes the Triller AI is helping brands and creators alike increase their visibility and their monetization even when our users are on other social media apps," said Sarnevesht.
This stands in stark contrast to TikTok's closed-garden system, which only allows creators to reach a fraction of their audience unless they pay TikTok or give up the majority of the revenue from the brand.
Triller's open-garden system disrupts the walled garden system of other social media networks as well, not just Tiktok, providing more control and money to creators while disrupting the current social media landscape. "Big Tech and social media companies are not happy that we are breaking open this 'walled garden world' they spent so many years creating and perfecting. It's probably the worst thing that can happen to them as we're not asking users to decide and switch to Triller, just by being on Triller and using Triller as the starting point ,we are helping our users navigate around the closed walls on Snap, Insta, Twitter, Youtube, and the others, cutting big tech out of the middle, even on their own platforms," he continues.
Triller's AI, which comes via an acquisition it made two years ago, has already been used by some of the largest brands and political campaigns in the world and has enabled over 20 billion conversations with more than half a billion users.
"Everyone is talking about AI like it's this new thing. It's new to them and has become a great buzzword, but it is the very foundation of what Triller does, and best of all, the world's largest brands have been using our Triller owned AI for years," stated Sarnevesht. "For the last few years, the world didn't really understand what Triller was because the concept of AI hadn't yet become mainstream.
Article continues below advertisement
Open Garden
Triller isn't keeping its users locked in one network, so the most important metric to Triller is the number of interactions it creates across its various platforms on a monthly basis, as each of those interactions is a possible transaction. "We are now breaking over 750 million interactions each month," stated Sarnevesht, "and we are certainly one of the biggest in AI."
One of the very unique features of Triller is that it may start as a social media app, but that is just the "door". Unlike other social media, however, who open the door and close it behind you, Triller is always looking to help grow its creators across all of its mediums. "Once you walk in the door, we open every door and window in the house to help you connect everywhere," said Sarnevesht.
"The moment someone asks what DAU or MAU a social platform has a creator should run for the hills. This is basically big tech speak for how many people can you trap inside your mousetrap, including you. The most important metric today is how many places can a user make money, how many opportunities to transact does a platform provide".
Whether it's taking Jake Paul from short-form content to one of the largest names in sports or helping Bryce Hall go from short-form "Tiktoker" to a full-fledged movie star, "Triller's goal is to both empower the creators, help them grow, and help them recognize every revenue opportunity along the way," said Sarnevesht.
Triller 'the app' is "the head of the dragon," he continues. People sign up, but once they do, it is all of the mediums and outlets that are part of Triller that drive the real value to creators. Wholly-owned Julius, being one of them, has 25,000 brands and tracks over 2.5 million creators and is the only online marketplace for creators and brands to directly connect and transact, an eBay for creators and brands if you will. Amplify.ai, which is embedded into every other social media company already and is basically a "ChatGpt" for influencers and brands, has already powered over 20 billion conversations with more than half a billion users for some of the world's largest brands. Cliqz, our SMS product, which connects influencers with their users one-on-one through direct SMS and is already being used by the biggest names such as Charli D'Amelio, Bryce Hall, and many others with over 50 million users, are just a few examples of the breadth, depth, and scope of the Triller ecosystem
.But it doesn't stop there. "Most short-form apps, like the other social media companies, are just that - a short-form app. We realized that creators today are relying on their short-form to drive their futures, which is why we acquired Verzuz, fite.tv, and BKFC to name a few," said Sarnevesht.
Article continues below advertisement
Triller Fite.Tv is now the largest in combat sports, with over 2000 live events a year and in over 6.5 million households. BKFC, which Triller acquired a majority of last year, is the fastest-growing combat sport, currently growing at 10 times the pace the UFC did at the same time. It has sold out its last 10 events, setting both in-venue and digital records. Its last event- knucklemania sold out almost 10,000 tickets in record time, breaking even the UFC sales at the same venue, led to 250,000 downloads of the BKFC app alone that day, and had an unprecedented over 1 billion impressions on social media. "Every event we do not only do we get bigger and bigger and our growth trajectory grows exponentially" stated Sarnevesht. "BKFC really is a juggernaught".
VERZUZ, which Triller acquired in 2020, has literally set the world on fire, becoming one of the most recognized brands in music today and changing the entire music landscape. Triller has been integrating Verzuz into all of its short and long-form content. Verzuz holds the distinct record of having four of the top 10 most-watched live shows on Instagram and the entire music industry understands the power of Verzuz now referred to as 'The Verzuz Effect".. To understand the value of Verzuz, one need only look at the viewership numbers ofVerzuz and compare them to other long term large brands.Highlights include:
Verzuz Ashanti vs. Keyshia Cole had 8.1 million viewers, which was just before the Grammys, which took place shortly thereafter with 8.8 million viewers.
Verzuz Bone Thugs vs. Three Six Mafia, which garnered 3.095 million viewers vs. NFT Dallas Cowboys vs. New Orleans Saints – which had 2.913 million viewers
Verzuz The Isley Brothers vs. Earth, Wind & Fire had 3.63 million viewers, vs. 2021 MTV Movie & TV Awards had 1.7 million total viewers.
Verzuz Bow Wow vs. Soulja Boy, which saw 2.39 million viewers vs. the 2021 Stanley Cup Finals, which saw 2.38 million.
Verzuz Fat Joe vs. Ja Rule, which had over 2.07 million viewers vs. the 2021 Ryder Cup Day 1, which had a total of 1.48 million viewers.
Anthony Hamilton vs. Musiq Soulchild had 2.55 million viewers vs. the 28th Annual Screen Actors Guild Awards, which had 1.8 million viewers.
Verzuz Omarion vs. Mario reached 5.17 million viewers vs. the 49th Daytime Emmy Awards the same weekend, which had a total of 2.95 million viewers.
Article continues below advertisement
"Best of all, Verzuz hasn't even put on its biggest events yet. It just announced what it anticipates will break every record. As shows like the Grammys, NFL, the Emmys, etc., are long-established multi-hundred, if not multi-billion, dollar institutions, and their value is derived from their viewership, Verzuz as a brand stands as one of the most important brands in music today.
'Hopefully, as people come to understand Triller better, they will understand we are the artists. The vast majority of our shareholders are the artists, the influencers, the creators. Our voice is their voice. That's why we have spent the last two years building an ecosystem that removes all of the walls and hurdles big tech puts between the artist or influencer and their followers, both on and off-platform. Don't take my word for it. Just watch this video. It says more than I ever can.'"
Triller recently announced it is undergoing a direct listing and expects to be publicly traded under the ticker 'illr'.