NEWS
All Good Things Premiere Brings Back Kirsten Dunst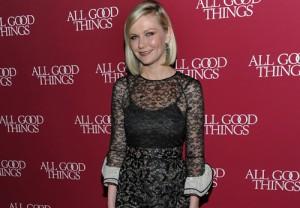 In our opinion, we haven't been seeing enough of Kirsten Dunst over the last few years, so we're glad she's back! The prodigal starlet returned to the red carpet last night in NYC for the premiere of her movie, All Good Things, in which she stars alongside Ryan Gosling. She took the time to chat with reporters about her fresh foray onto the big screen.
Article continues below advertisement
When asked about how's she's been able to enjoy such staying power in the business, Kirsten says she's been lucky.
"Usually you get pigeon-holed into certain film categories, but I think as long as you stay truthful to what characters you truly are really passionate about and not just do one to do it — that's when I think you start to lose why you're doing things, why you're doing a film," she told reporters. "Someone who I really admire is Julianne Moore. She's someone whose always gone from like big films to smaller films."
MORE ON:
OK Galleries & Photos
OK! VIDEO: RYAN GOSLING & KIRSTEN DUNST IN ALL GOOD THINGS
Although her leading man wasn't present, Kiki had kind words for him.
"He's up for trying anything and it felt like a team which doesn't always happen," she told OK!. "You're both very there for each other and creatively open to each other's ideas. It just felt very natural. "
All Good Things, a suspenseful thriller about a marriage gone wrong, opens in theaters Dec. 9.
WATCH THE TRAILER BELOW:
Reporting by Evan Real