NEWS
Ashton & Natalie Team Up for 'Friends with Benefits'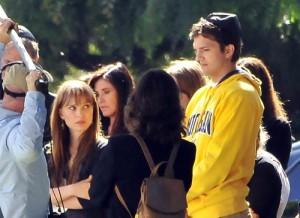 Is that acting or is Natalie Portman really not happy with her co-star Ashton Kutcher on set? Pretty sure she's just in character for a scene the twosome shot on Tuesday in L.A. for Friends with Benefits, and we've got commend her skills — Nat looks really mad!
Natalie and Ashton have seemed like old chums on the set so far, hanging out in between takes and palling around.
Article continues below advertisement
In fact when Natalie isn't around, Ashton has trouble keeping his eyes open long enough to film!