PHOTOS
Brad Paisley, Dierks Bentley Talk Fatherhood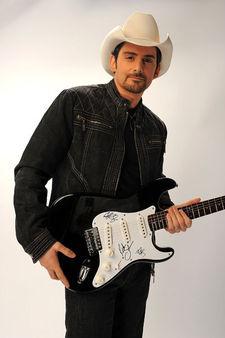 Brad Paisley's son William "Huck" Huckleberry, 2, is adjusting to life as a big brother now that Jasper, two months, has arrived.
"Most of the time, I think he loves his brother," the Then singer, who has been married to wife Kimberly since 2003, says backstage during the CMA Music Festival held in Nashville. "It depends on the day. There are certain days when he is not so certain about us – that he's got the right parents. No, he likes his brother a lot. It's good. You know how it is. It's a little bit of a shock for a little boy to share things, and one that I'm glad he has to experience and I never had to."
Article continues below advertisement
Josh Turner and wife Jennifer, who have been married since 2003, are getting ready to welcome a new addition "very soon." Their son Hampton, 3, loves to go fishing with dear old dad, and they recently "caught quite a few fish."
"We've been trying to prepare Hampton for the new sibling," he says backstage. "I don't think he totally understands, but he's ready. He's ready for a partner in crime. We're trying to prepare. We're excited; we're ready."
Dierks Bentley is celebrating his first Father's Day now that daughter Evalyn, eight months, is in his life. Mom is wife Cassidy, whom he wed in 2005.
"I'm definitely going to get an extra bus and take everyone out," the Sideways singer says. "It takes on a whole new meaning. I was the type to make a phone call and kind of forget-to-send-a-card-on-time son, and I feel bad. Now that I'm a dad, it's like I expect some things here. Cards? I mean, it's my life's mission. Really, in our house, it's Mother's Day that deserves all the major praise with what she went through this year."
Article continues below advertisement
Twilight and Nurse Jackie star Peter Facinelli, who is dad to Luca, 12, Lola, 6, and Fiona, 2, with Jennie Garth, whom he married in 2001, doesn't expect all the attention come Sunday.
"I make sure I send my dad a card," he tells me.
Rodney Atkins will be on the road but hopes to carve out time with son Elijah, 7, whose mom is wife Tammy. "We're gong to be in Minnesota by the lake. Hopefully we're gonna go fishing."
Trace Adkins has five daughters – twenty-somethings Tarah and Sarah, from his first marriage – and his younger children Mackenzie, Brianna and Trinity, by wife Rhonda, whom he wed in 1997.
"I am a hero to them now because I did the Opry a few weeks ago with Taylor Swift, and my kids got to go in her dressing room and hang out with her, and it was a thrill for them. When Miley Cyrus played here last year, they got to go in her dressing room and meet her. They really think a lot of me for that."
Darius Rucker agrees. While his youngest son Jack likes karate and superheroes, his oldest daughter Carol and middle daughter Danielle are all about Miley and the Jonas Brothers.
"The first thing that happened to me with fatherhood is I realized the whole world didn't revolve around me," he tells me with laugh. "That was a big thing."
SEE MORE PHOTOS IN THE VALERIE GALLERY: