NEWS
Britney Spears Lets It All Hang Out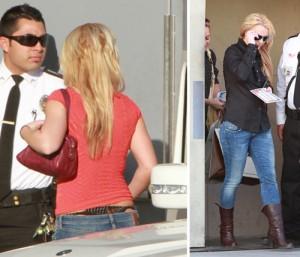 Britney Jean Spears. Just when we think we are getting somewhere with you — when you've been trying to wear pants and not cutoffs, and putting your hair up and generally making an effort with your appearance — you go and do something like this. A thong hanging out of your jeans and your ratty extensions showing? You know better. You. Know. Better.
OK! GALLERY: BRITNEY SPEARS IS AN EQUAL OPPORTUNITY TREAT GIVER
Article continues below advertisement
The Britster was on her way to shop at the Topanga Hills Mall in Woodland, Calif. yesterday. And as per usual, she left the retail haven wearing a different outfit than the one she had on the way in.
OK! GALLERY: BRITNEY SPEARS GRABS A BITE, DRESSES RIGHT
Please, we're begging you, Brit. If you want to keep your denim cutoffs with the pockets sticking out, we can accept that. Just keep your underoos in check.